Rokeya Prachi turns director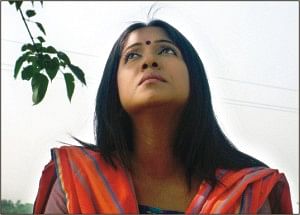 Talented actor Rokeya Prachi recently made her debut as a director. Her maiden directorial venture was a TV play that was aired on Rtv as an Independence Day special. The play was challenging for Prachi, as the central character was a 'razakar' (Pakistani collaborator during the Liberation War).
"Many have worked on the subject (Liberation War) from different perspectives and I had my own ideas," said Prachi on her work.
Though Prachi started with a TV play, she is keen on making documentaries, in particularly on the Language Movement veterans. At present she is working on Language Movement martyr Shaheed Abul Barkat. "Language Movement initiated the nation's struggle for independence, but not enough work has been done on this historic event."
"Shaheed Barkat is significant both in Bangladesh and West Bengal as he was born on the other side of the border," said Prachi about her reason behind making the documentary on Shaheed Barkat.
Not only on Saheed Barkat, Prachi wants to make films on other issues related to the Language Movement as well as pioneering personalities like Anwar Hossain, Rani Sarkar and others. "They have tremendous contribution in the society and I feel it's high time they were honoured with documentaries," said Prachi.
Prachi also has plans to make documentaries on Swadhin Bangla Betar Kendra artistes and a psychoanalytical study of the female mind.
At present, Prachi has significantly reduced her work as an actor to give more time to direction. However, she finds the latter more difficult than acting. "A director has to consider every aspect of a film. On the other hand, actors only have to concentrate on their own work. But in both cases, you have to be sincere and passionate. There is no shortcut to success," she said.
Prachi was lauded for her role in Abu Sayeed's feature film "Swapnodanay." Currently she is working in Anwar Shahadat's feature film "Ustagarer Talika," where she plays an NGO worker conducting a research on the civilians' contribution during the Liberation War.