Brown touts anti-terror strategy in Pakistan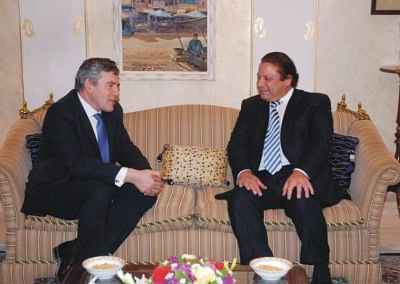 British Prime Minister Gordon Brown held talks in Pakistan Monday after announcing a new strategy to tackle a "crucible of terrorism" on a visit to Kabul.
Brown met with Pakistan President Asif Ali Zardari to discuss terror threats after visiting British troops in insurgency-plagued southern Afghanistan and meeting Afghan President Hamid Karzai in Kabul.
"These border areas between Pakistan and Afghanistan are the breeding ground, the crucible of terrorism," Brown told a news conference with Karzai.
"A chain of terror links these areas to the streets of many of the capital cities of the world," Brown added.
"We wish to support the Pakistani authorities... in dealing with that terrorist threat and we will be discussing later today how we can work together... when I meet President Zardari in Pakistan," he said.
The strategy announcement follows growing concern in the West over Taliban advances in Pakistan, which Washington has put at the heart of the fight against al-Qaeda, and potential implications for the war in Afghanistan.