The lure of deshi craft
BSCIC Baishakhi Mela at Bangla Academy ends today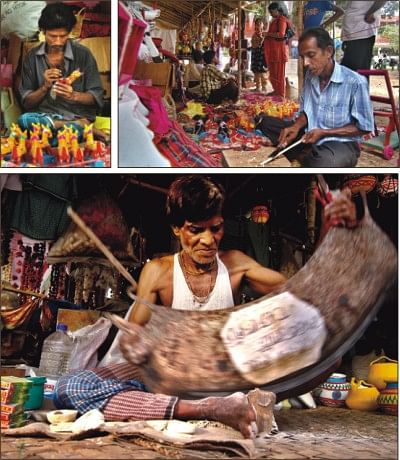 The ten-day 'Baishakhi Mela' (fair), arranged by Bangladesh Small and Cottage Industries Corporation (BSCIC) in association with Bangla Academy, at Bangla Academy premises ends today. Marking 'Pahela Baishakh 1416' (the Bangla New Year), the fair began on April 14.
This year, the fair has nearly 170 stalls offering different traditional products. Stalls featuring handicrafts, hand-woven fabric and sweets drew a good number of people everyday at the fair. A puppet show and 'nagordola' keep the children entertained.
Added attraction is musical programme -- featuring traditional Bangla songs -- at the Nazrul Mancho (stage) every evening.
Initiated in the early 1980s, the BSCIC Baishakhi fair failed to draw sizeable attendance during the initial years because it was not allocated one particular venue. This year's fair at the Bangla Academy premises did not see a lot of shoppers either, complained several stall owners.
One of the stall owners, Md. Shawkat Ali, informed that in the last couple of years, the fair was held at the Sher-E-Bangla Nagar Trade Fair ground -- better suited for the 'Baishakhi Fair,' according to stall owners and shoppers.
Shawkat Ali owns an outlet, selling traditional 'jamdani sari'. Ali has his own 'karigar' (weavers) and his business is based at Rupganj in Narayanganj. "As a result of changing venues randomly, organisers often fail to inform people about the fair in due time," he said. The price range of 'jamdani sari' at the fair is between Tk 2500 and 6500.
Ali's is among twenty stalls allocated for working craftsmen, who have come from different corners of the country. These stalls are the highpoint of the fair as they feature exquisite traditional handicrafts such as wicker and bamboo baskets, pottery and decorative items made of clay and 'shola' (straw), bangles, beautiful hand-held fans and much more.
Satya Gopal Dutta is another craftsman. Gopal has been selling his conch-bangles at the fair over the last two decades. A pair of the bangles sell for Tk 400.