Falling exports hit economy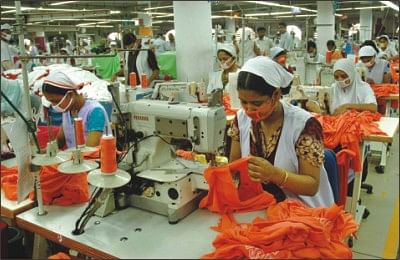 Export growth for Bangladesh's crucial garments sector has ground to a halt as a result of the global financial crisis, threatening to pull down the rest of the economy, experts said.
Clothing manufacture underpins impoverished Bangladesh's industrial activity, accounting for 80 percent of overseas sales and pulling in 11 billion dollars a year.
"What started as the best year for us has suddenly vanished due to the global meltdown," said Abdus Salam Murshedy, head of the Bangladesh Garment Manufacturers and Exporters Association (BGMEA).
Export orders are evaporating as the appetite for made-in-Bangladesh goods falls in the country's main US and European markets as customers tighten their belts.
At the start of Bangladesh's financial year in July, garment exports were up 72 percent from a year earlier, but by February growth had slowed to four percent year-on-year as orders from Western retailers evaporated.
"The whole economy can unravel if garment exports continue to slow down as many other sectors such as transport, services and construction are directly dependent on this sector," said Masato Miyazaki, an IMF adviser on Bangladesh.
Many garment factories now have no orders, said Fazlul Hoque, who heads the country's 1,300-member Knitwear Manufacturers and Exporters Association.
"Hundreds of factories are on the verge of closure and many have shed jobs," said Hoque, warning that thousands more jobs were at stake in the sector.
The garment industry employs 2.5 million workers, mostly women, who account for more than 40 percent of Bangladesh's industrial workforce.
One of the country's biggest selling points was its ability to undercut rivals India, Pakistan and China as Bangladeshi labour was among the world's cheapest.
But those countries now are beating Bangladesh on price, industry leaders said.
"We used to boast that nobody could beat us but Pakistan, China and India are now offering cheaper rates," said Z.A. Chowdhury, director of leading manufacturer Knit Asia, which sells garments to British supermarket chain Tesco.
He said the currencies of India and Pakistan have depreciated against the dollar in recent months, making their goods cheaper, while the Bangladeshi taka has remained steady.
"Garment exports grew over 40 percent in the first quarter as orders meant for China directed to Bangladesh because of its cheap production cost,' said trade expert Mustafizur Rahman, a visiting Yale University professor.
"But it started to slow down sharply since October as China has withdrawn taxes and pumped incentives to its apparel manufacturers to cushion against global recession," he said.
The BGMEA, which groups 4,500 export-oriented garment factories, said firms need subsidies worth 10 percent of the value of their exports to stay competitive.
Rahman said the export downturn is taking a toll on economic growth, and could push millions more below the poverty line in what is already one of the world's poorest countries.
Close to 40 percent of its 144 million people survive on a dollar a day.
The World Bank has forecast growth this financial year could be two percentage points lower than expected at 4.5 percent, the lowest in eight years.
Last year the economy grew by 6.2 percent and the government had been aiming for 6.5 percent this year.
On top of the export slump, Bangladeshi workers abroad are being laid off in the Middle East, South East Asia and other countries where Bangladeshis find low-skilled, low-wage work.
This has hit remittances, another worry for authorities as money sent home by workers abroad is the second biggest foreign exchange earner after exports.
"The economy is clearly slowing down as exports have been hit by global recession and overseas jobs have declined sharply with more workers returning home," said the World Bank's Miyazaki.
"It's a worrying sign for the country's poor."