Laos keen to import medicines, cement from Bangladesh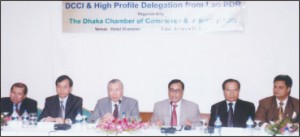 Visiting Laotian First Vice Foreign Minister Phongsavath Boupha yesterday said his country is interested to import medicines, cement, ceramic, light engineering products, leather, steel and agro-products from Bangladesh.
He also invited Bangladeshi businesspeople to go for joint ventures in hydropower, tourism and services sectors with Laotians.
Boupha, who is leading the first high-profile delegation from Laos after diplomatic relations were established with Bangladesh in 1988, was speaking at discussion with Bangladesh business community in Dhaka. Dhaka Chamber of Commerce and Industry (DCCI) organised the discussion.
Absence of adequate transport links between Bangladesh and Laos is an obstacle to boosting trade between the countries, observed local business leaders.
The visiting delegates also agreed with the fact and said road links like Asian highway may solve the problem.
The both sides also stressed the need for expanding business between them.
"Laos is a land locked country and connectivity is important for it to boost trade," said Shahjahan Khan, acting president of DCCI.
Boupha also said, "Bilateral trade between the countries is far below the potential."
During 2005-06, Bangladesh exported goods worth $0.62 million to Laos, while it imported goods valued at $0.70million from Laos, according to available data.