Eviction of Dalits protested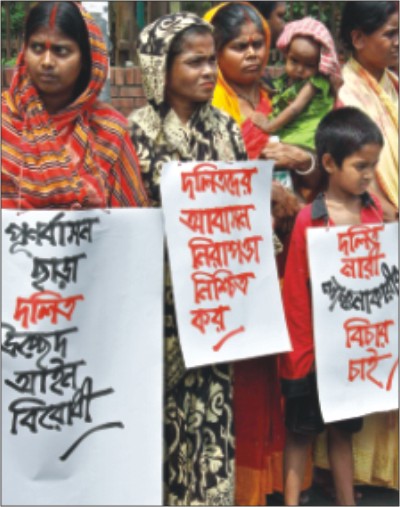 Bangladesh Dalit and Excluded Rights Movement (BDERM) and Bangladesh Dalit Human Rights (BDHR) formed a human chain in the city yesterday protesting eviction of Dalits and the deprived from Sutrapur area.
The human chain was formed in front of the National Museum in the morning demanding arrest and trial of land robbers who evicted Dalit community from the neighborhood they have been using as abode for over a century.
BDERM Adviser Zakir Hossain said, "Dalits in our country are landless since their births and very often face eviction from the places whenever they try to settle down. The way Dalits are being evicted is a clear violation of human rights."
The organisers also threatened to go for a tougher movement with 40,000 Dalits living in the city to bring the land robbers to book unless the government takes immediate step to resolve the problem.
Laxmi Rani Das, an evicted Dalit woman, said, "With the help of police and criminals, we were evicted from the land where we had been living for over a century. They also beat us during the eviction."
Many of the Dalit families were evicted from RM Das road at Sutrapur on March 29, while the families still living at the place are being threatened to evacuate the place.