Guiding the nation through good times and bad
Four literary icons honoured by 'Alokito Nagori'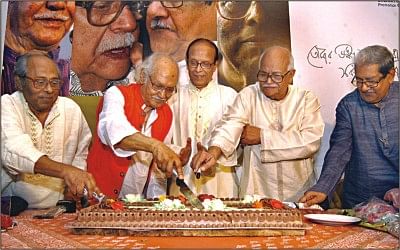 From the turbulent times when the nation started realising the need to form a sovereign country, through the Liberation War and numerous movements against tyranny, socio-cultural crises, to the contemporary volatile days -- these personalities, whose literary careers have enriched our literature and educated, enlightened many, have been guiding the nation as lighthouses. Literary icons -- National Professor Kabir Chowdhury, Professor Zillur Rahman Siddiqui, Professor Emeritus Anisuzzaman and Hasan Azizul Haque -- were honoured by cultural organisation 'Alokito Nagori' on April 6. The event was held at Bengal Shilpalay Cafe.
The occasion was a collective celebration of the honourees' birthdays. All four were born in the month of February. "Though we've been trying to hold this programme since February, due to unavoidable circumstances, the celebration had to be shelved," said Aminur Rahman Rana, chief executive officer of Alokito Nagori.
The programme was presided over by educationist-litterateur Professor Khan Sarwar Murshid.
The event started with a musical tribute -- an immaculate rendition of "Anandodhara bahichhey bhubaney" by Aditi Muhsin.
Members of Alokito Nagori -- Aslam Ziauddin, Ata Sarkar, Ali Ahmed, Professor Syed Manzoorul Islam -- and young members of 'Khelaghar' led by Professor Panna Kaiser welcomed the five literary stalwarts with flowers.
Calling the honourees "lighthouses," Professor Syed Manzoorul Islam said, "They have been guiding us through good and bad times for decades. They are getting older but in terms of progressive thinking they are certainly younger than most of us. Through critical times, they assure us that better days are ahead. I sincerely wish that they continue enlightening us through their 200th birthdays."
In a jovial mood, Hasan Azizul Haque said, "I figured we won't be asked to speak at this event and was relieved. I thought we'd just sit here, with subdued, coy smiles and cut a cake.
"Actually, I'm unnerved to speak in the presence of Professor Khan Sarwar Murshid and I've always been entranced by Kabir Chowdhury's charm, most importantly, I'm the young in this group."
Professor Anisuzzaman went over how "Professor Khan Sarwar Murshid was a role model." "Professor Kabir Chowdhury enriched our literature and Professor Zillur Rahman Siddiqui enlightened us with his poems and articles. Hasan Azizul Haque and I share similar values," he added.
Professor Khan Sarwar Murshid mentioned "Ke Ba(n)chaye Ke Ba(n)chey" by Hasan Azizul Haque and lauded the writer's razor-sharp wit and "brutal honesty" in addressing social injustice. Professor Murshid also talked about Professor Anisuzzaman's steadfast convictions to social causes while the latter was a student at Dhaka University.
National Professor Kabir Chowdhury turned 87 on February 9 this year, Professor Zillur Rahman Siddiqui turned 82 on February 23, Professor Emeritus Anisuzzaman turned 72 on February 18 and litterateur Hasan Azizul Haque turned 70 on February 2.
The event was well attended by renowned literary and cultural personalities.