Unesco book fair begins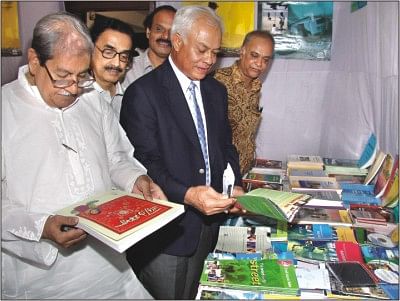 Two-day 'Unesco book fair 2009' began at the Public Library in the city yesterday.
Prof Anisuzzaman inaugurated the book fair.
National Association of Unesco Clubs in association with Unesco Dhaka Office organised the 8th Unesco book fair.
Around four thousand books and 20 posters published by the Unesco on education, science, culture, mass communication, environment, water, HIV/AIDS, women rights and empowerment, human rights, history and tradition will be on display at the fair.
The fair will remain open for all from 10:00am to 6:00pm today.
Prof Anisuzzaman said Unesco was formed to bring peace in the world and the organisation was working for it.
"We need to know that education is the only way to make ourselves prosperous in life and such book fairs are very significant," Prof Anisuzzaman said.
Unesco representative in Bangladesh Malama Melisea was the chief guest at the inaugural ceremony with Prof Aminul Islam in the chair. Chief Editor of Bangladesh Sangbad Sangstha (BSS) Jaglul Ahmed Chowdhury also spoke at the ceremony.