Country passing thru' a crucial moment
Says Gaffar Chy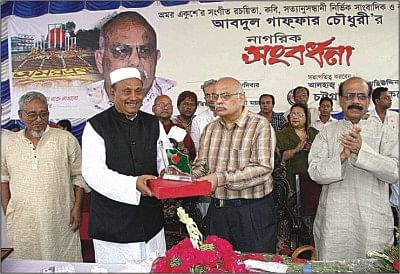 Noted journalist and political analyst Abdul Gaffar Chowdhury yesterday said Bangladesh is now passing through a crucial moment.
Though the anti-liberation forces were defeated in the recent election, they are still plotting against the democratic progress of the country, he observed.
The enemies of the nation tried to create anarchy through BDR mutiny on February 25, he added.
He was speaking at a reception accorded to him at Laldighi Maidan in Chittagong yesterday afternoon. Chittagong City Corporation (CCC) accorded him the reception.
CCC Mayor ABM Mohiuddin Chowdhury presided over the ceremony while Chittagong University Vice Chancellor Prof Dr Abu Yusuf, poet Asad Chowdhury, Prof Dr Gazi Salehuddin, Dr Shah Alam, Engineer Delwar Majumder and CCC acting Chief Executive Officer Md Shamsuddoha were guests at the ceremony.
Gaffar Chowdhury urged the Prime Minister Sheikh Hasina to identify the real friends and enemies of her party and the government immediately to overcome the present crisis.
Earlier in the morning, a local weekly 'Sahoshi Thikana gave a reception to the journalist at a ceremony at Theatre Institute Chittagong (TIC).