Branding to combine emotions, rationales
Speakers tell seminar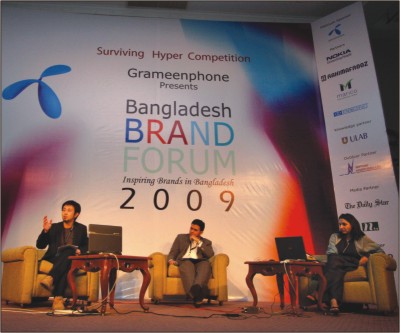 Branding should go through both the rational and emotional ways, as customers often put their trust in a brand primarily without having any relationship with a certain product of that brand, speakers said at a seminar yesterday.
It is not possible for a customer to test each and every product he or she buys for daily life, and so the sellers shoulder the responsibilities to ensure a trustworthy relationship with the customers, they said.
The idea of branding changed in the last few years. Now branding is not just like selling products in a certain market, it is a matter of building relation, confidence and ensuring accountability.
"A brand is a set of promises. It implies trust, consistency and a set of expectations. A brand differentiates products and services that appear similar in features, attributes and possibly even benefits," said Sanjiv Mehta, chairman of Unilever North Africa and Middle East.
He said branding can succeed when both the emotional and rational ways go together.
Mehta was speaking on the first day of a two-day seminar styled Surviving Hyper Competition organised by Bangladesh Brand Forum (BBF) in Dhaka. Established in 2007, the BBF mainly works to promote the local brands.
The high official of the world's one of the leading consumer brands said emotional appeals evoke positive feelings that are transferred to the brand, and emotional advertising is often better remembered than non-emotional message.
Mehta said positive mood states created by advertising can have a favourable effect on consumers' evaluation of a product. "At the same time, you have to brand a product that actually serves the consumers."
He said everyone wants 'eternal' youth and beauty. "So when an anti-aging cream that removes the lines from your forehead is launched but doesn't deliver, whatever the way you are branding the product, it can't ever succeed."
"A company needs to fix six right things together including choosing right products with a right proposition, along with right packaging, price, value and campaigning it through the right channels," Mehta said.
"You must knock at the consumers' needs, even the unarticulated needs that the consumers are yet to feel," he said in his keynote presentation titled "Building Great Brands: The Emotional with The Rational".
"The branding might say you would look like Cleopatra or Aishwarya Rai but if the product does not deliver, people would buy it once and then stop buying it. So rationality is important."
"At the same time, you just have the right products that remove the lines, freckles and make one's skin look younger, but it'll not work unless you can give an emotional touch to it," he said.
Jeff Cacy, managing director, airline marketing services of Boeing Commercial Airplanes, said branding should focus on trust and safety.
Cacy said although aviation industry passed more than 100 years, people still treat flying as a 'magical' thing.
So in such cases branding should be like 'you will be safe with the magical feeling', he said.
The discussion of emotion and rationality in branding continued in the second session of the seminar as well.
Some artistes described how art, culture, heritage, behaviour and conversations help make a good brand.
"Emotion is an abstract feeling. It's difficult to explain," said Nazia Andaleeb Preema, a local visual artist. "Without getting into our own emotion, we cannot realise others'," Preema said while speaking on 'Connecting with Soul to Touch Emotion'.
Preema said: "If we really want to go through real life, we have to go through a soul searching process and it is how we visualise any of our thoughts."
Jun'ichiro Ishii, a visual artist from France, said: "There is something between your and my emotions. I try to visualise that."
Localisation and culture are major components of product branding, Ishii said.
Brand makes meaning, and the process of creating a meaning is important for branding, said Santosh Desai, managing director of Future Brands India.
"In branding we need to understand the culture in a distinct market," he said.
BBF President Shariful Islam, among others, was present at the seminar. Grameenphone is the platinum sponsor, while Nokia, Rahimafrooz, Marico Bangladesh and University of Liberal Arts Bangladesh are the co-partners with The Daily Star and TV channel Ntv the media partners of the event.