Udinese stun Zenit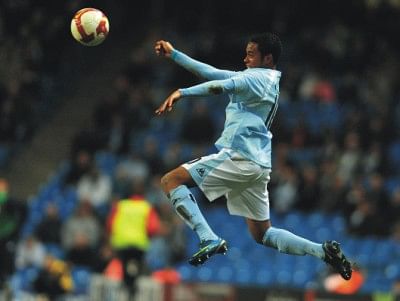 Udinese's 2-0 victory over defending champions Zenit St Petersburg gave Italy rare cause to celebrate and Manchester City are set fair to reach the UEFA Cup quarterfinals following Thursday's action.
Udine's Antonio Di Natale scored in the seventh minute of injury time following Fabio Quagliarella's 85th minute opener to give Italy some joy as their sole representatives in Europe following their Champions League wipe out before the quarterfinals for the first time in seven years.
Manchester City put one foot in the last eight with a 2-0 win over Danish side Aalborg at Eastlands.
Brazil forward Robinho returned after missing City's win over Aston Villa last week following a trip home to Brazil for treatment on an ankle injury and on Thursday the player was also named in Brazil's squad for World Cup action.
Felipe Caicedo and Shaun Wright-Phillips bagged first half goals for Mark Hughes side to put them on course for a first eight spot in this second-tier European competition for the first time in 30 years.
Stephen Ireland admitted Manchester City should have killed off Aalborg.
"We should have finished the game off here," he said on ITV. "When we go there next we have to be clever and not concede too early and get on the back foot, but we've done well away from home in Europe this season."
Asked if it was his best goal in City colours, England international Wright-Phillips said: "I'd just like to think so. It came to me and I cut inside and let loose, but like Stevie said the team performance was magnificent and we have to build on it."
Wright-Phillips appeared sporting a heavy icepack on his right ankle having come off four minutes from time, but insisted it was nothing to worry about.
"It's just a bit of a sore ankle but I'll just have to get on with it," he said.
It was an up-and-down night for French clubs with Paris Saint Germain getting a goalless draw with Portugal's Braga, Saint Etienne losing 1-0 at Werder Bremen, though Marseille had an impressive 2-1 victory over Ajax.
PSG coach Paul Le Guen said he was happy with the outcome. "I'm rather satisfied with the match, particularly the second half but I don't know if it will be enough to go through to the quarterfinals. We'll see. I saw a lot of tapes of this team and they played similarly to the ones on the screen and I wasn't surprised."
At Werder Bremen a minute's silence was held for the victims of the Winnenden massacre where 17-year-old Tim Kretschmer shot dead nine pupils and three teachers before killing three other people in the south-west German school.
Over at Hamburg's former Tottenham coach Martin Jol said after their home 1-1 draw with Turks Galatasaray: "In the first-half, we hardly played any football, but after the break we created four or five chances."
Galatasaray coach Buelent Kormaz said: "If you only end up passing the ball back and forth in your own half, nothing happens up front, but at least the result is okay.I congratulate my team about the result."
"We have now a small advantage to take back to Turkey. Our biggest advantage is our stadium with our fans. We will use this to our advantage."
In other matches, CSKA Moscow beat Shakhtar Donetsk, and Dynamo Kiev got a victory over Metalist Kharkov, both with 1-0 scorelines.
Winners after next week's second legs go into the Friday March 20 quarterfinal draw.