At the sudden loss of a friend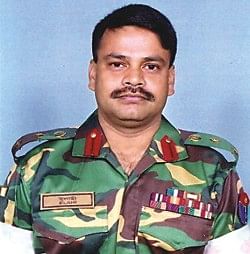 Imourn my friends Col. Elahi and Col. Moshiur who were murdered in cold blood by my own countrymen. We met when we were only 12 at the Jhenidah Cadet College (JCC). As my elder brother had done, Moshiur's brother had also gone to study in America. That was our connection; otherwise, I knew him as a very good boy and a good cadet. But, Rahman Shafiq, as we called Col. Elahi, sat next to me in the class for all the six years we were at JCC.
I left Bangladesh for America 27 years ago and unfortunately did not keep in touch with him. Through other friends I knew he was in the army and I wished him well. I hoped to see him again.
Two days ago, my brother emailed me a picture of Rahman Shafiq receiving an award from Ban Ki moon. Looking at that picture I could vividly recall his smiling face from over 30 years ago. I could see that in some ways he had not lost his childlike innocence even after all these years.
Rahman Shafiq did not study too hard, but he was very attentive in the class and had a knack for intelligently summarising any subject of our study in a few words. I marveled at the way he wrote answers to questions very briefly and then scored higher than others. In this he became my role model. He had an infectious quiet laugh that shook his whole upper body and made others laugh too.
I recall the ingenuity of his mind when he and I were partners in class eight, first in a project to make a rudimentary telescope and then in making a more ambitious battery-powered plane that did finally fly a few meters, to our astonishment. But his real passion was not for science, it was, as I recall, for communication and genuine friendship with others.
Over the six years that I knew him, I him as an unbiased person who was not only a keen observer but also unassuming, kind, just, courageous, and most of all, childlike. This last trait of his character was totally disarming for; above all, he was an enemy to none.
I am sure my two friends were friends of all who knew them. I am sure those who shot them did not really know them. But I believe what killed them was not just the bullets of a few reckless BDR men, it was also the increasingly violent culture of the world we are living in, the current crisis of values.
If we want to live in a more peaceful world or in a more peaceful Bangladesh, we must pay attention to the root causes of violence and not just to the wages we pay. The root cause I believe is not economic but more an increasingly mechanised world where meanings and purposes are being reduced to quantifiable material ends.
In such a world a perceived injustice, true or false, is fought less through appeal to values of goodness and truth, than through material means, which, in this case, were guns! In this situation, it is not enough to mourn and pray but to act against those forces that undermine spiritual values, which served our nation very well through ages.
I will end by identifying some causes of the current crisis of values.
Violence on the media: Ban all movies, video games, and advertisements which glorify violence.
Technomania: Let us not adopt every latest technology that comes along without careful thought so we may be able minimise mechanisation of our lives and its inevitable spiritual cost.
Let the loss of so many friends of our beloved nation wake us up to reflect deeper on the direction we are heading in, and how that is affecting our values. Col. Elahi's full name was Qudrat Elahi Rahman Shafique. Even in our childhood, I wondered how his parents had chosen this rather long but very meaningful name.
Now I know that his name had to be determined by providence; we have truly lost a qudrat elahi -- to help us wake up from our slumber of indifference to the decline in values caused by the mad rush for material progress. May we never lose another qudrat elahi through our failure to nurture true values.
Tarik M. Quadir is a PhD candidate, University of Birmingham, UK.