Fahmida Nabi and Tomal on "Gaanalap"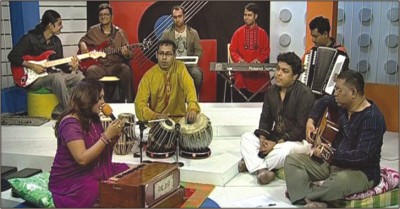 Popular singer Fahmida Nabi and young composer Tomal are the guests on tonight's episode of the musical programme "Gaanalap." The programme will be aired on Banglavision at 9:05 pm. On the show, Fahmida will perform some of her popular numbers, which include Tomal's composition.
Fahmida Nabi is a celebrated artiste in the country, while Tomal also has some notable compositions. Tomal had been a member of the band Nagar Baul. His musical career began as a member of the band Tirthak and he carved a niche with Tirthak's songs including "Tumi basho kina," "Duari" and "Bhalo achhi bhalo theko."
On the show, both artistes will share lighter moments with the host. Produced by Nahid Ahmed Biplab, the programme is hosted by noted singer and composer Nakib Khan.