Carnage in BDR Headquarters
Ctg mourners demand probe, trial of culprits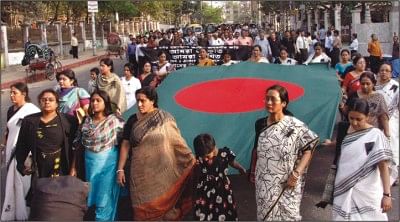 People from all walks of life here yesterday demanded proper investigation into brutal killings of the brilliant army officers and their family members at BDR headquarters on January 25 and exemplary punishment of the killers.
The demand came from a condolence meeting on the Shaheed Minar premises on the concluding day of a three-day mourning.
Chittagong Nagorik Samaj (CNS) organised the meeting where freedom fighter Faruk-e-Azam Bir Pratik read out a statement on behalf of the CNS.
In the statement, Nagorik Samaj condemned the barbaric killing of the army officers and expressed sympathy for the bereaved families.
The organisers of the programme also urged the countrymen irrespective of party and opinion to extend their support to the government so that it can overcome the crisis.
"Our brave members of the armed forces had played courageous role during natural disasters and critical junctures of the nation. We can understand their present mental state and feelings," the statement said.
After the rally, a mourning procession was brought out in the port city. Prof Mahbubul Hoque of Chittagong University Bangla department, Advocate Rana Das Gupta, Prof Abul Mansur of CU Fine Arts department, Prothom Alo Resident Editor Abul Momen, President of Bangladesh Economic Society Chittagong chapter Prof Sikandar Khan, Chittagong Press Club President Abu Sufian, CPB Chittagong unit president Shah Alam, Chittagong Union of Journalists (CUJ) President Moshtaq Ahmad, Poet Biswajit Chowdhury and Poet Omar Kaiser, among others, joined the procession.
Later, some of the participants talked to The Daily Star to share their feelings.
Prof Abul Mansur said, "Many demand an immediate trial of the killers. But I think the investigation and justice process should not be hurriedly done to ensure that main culprits cannot escape or innocent people are not victimised."
He said besides ensuring punishment to the culprits, the government should find out why members of a trained force have become so barbaric. Otherwise, such tragic incident could be committed again in the future.