BDR deserters given 24 hours to rejoin
Only about 100 respond to the ultimatum so far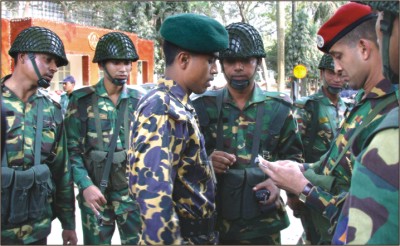 Bangladesh Rifles (BDR) members who are absent from their workplaces without any leave or permission following the mutiny were asked to report to the BDR headquarters or the nearest sector headquarters or battalion headquarters or police stations by 24 hours.
The home ministry, in a press note, issued the order yesterday saying lawful actions will be taken against those who fail to report or rejoin their respective workplaces within the time limit. The deadline ends today.
Following the instruction aired on different television channels yesterday, BDR Jawans who fled the BDR headquarters during or after the mutiny started reporting to the BDR headquarters at Pilkhana from yesterday afternoon.
Several panic-stricken relatives of BDR members were found at the desk of Reception and Information Centre (RIC) set up at the headquarters at Pilkhana to make sure whether BDR jawans would face tortures after they come to report.
Asma Akhter, daughter of Subedar Mohammad Arif, at the RIC said her father who has cardiac disease left the headquarters Thursday evening and took shelter at her residence at Hajaribagh.
She claimed her father had not taken part in the mutiny and he went to her residence at her request leaving the headquarters.
Nayeb Subedar Waliullah who came to report to the BDR headquarters told reporters that during the mutiny he was at his quarter in the BDR headquarters.
"At around 10:00am on Wednesday I heard an announcement through loudspeakers that the Jawans staying inside their residences instead of taking part in the mutiny will be killed," he added.
Following the announcement when I came out rebel BDR Jawans beat me and tore my uniform apart and they asked me to stay with them.
Later at around 11:00am on Wednesday he managed to escape the headquarters and later his wife and lone son also fled the scene the same day.
About 100 BDR jawans reported at the headquarters till filing of this report yesterday evening.
When asked about the exact number of those who reported at the headquarters captain Mohammad Sayeed at the RIC said they only provide information about the persons missing during the mutiny and receive information from relatives of those who have gone missing.
A total of 193 BDR members had been arrested from different exit points of Dhaka while fleeing after laying down arms till Friday. But Dhaka Metropolitan Police headquarters sources could not confirm the exact number till yesterday evening.
During the mutiny, around 3300 BDR members were inside the BDR headquarters while the number of commissioned officers was 160, concerned official sources said.
But only 300 of them were found as the police took control of the headquarters on Thursday after 33 hours of bloody massacre, sources added.