Indian Lok Sabha speaker arrives, talks with PM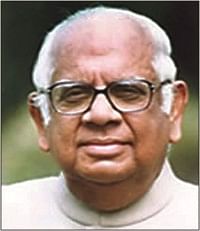 Speaker of Indian parliament Lok Sabha Somnath Chatterjee said India is willing to provide all necessary cooperation, including training up the parliamentarians, for making the newly elected Bangladesh parliament effective.
The visiting Indian speaker held out the offer as he and Prime Minister (PM) Sheikh Hasina exchanged opinions as to how the country's democracy and parliament could be strengthened further.
Somnath observed that the massive victory of the Awami League-led grand alliance in the December 29 polls under the leadership of Sheikh Hasina, is positive for the regional democracy.
"People of the whole world are happy over the victory of the grand alliance that leads the country in restoring democracy," he was quoted as saying.
The Lok Sabha speaker made the observations when a six-member delegation led by him called on the prime minister at her official residence Jamuna yesterday evening.
Bangabandhu Sheikh Mujibur Rahman's youngest daughter Sheikh Rehana and PM's Office Secretary Mollah Wahiduzzaman were present.
Briefing the media on the meeting, Press Secretary to the PM Abul Kalam Azad said the Indian Speaker also said members of parliament and Jatiya Sangsad officials could take training under an Indian government-run training institute on parliamentary affairs.
Apprising the Indian Speaker of her new government's strong commitment to make the parliament more effective, Hasina said parliamentary standing committees have already been formed with active participation of the opposition party.
She also informed the speaker that at her own initiative, "members of the parliament (MP), instead of ministers, have been made chairmen of the standing committees".
The MPs will have office in their respective constituencies for expediting development works, she said.
Somnath informed the PM that in India there is a parliament-owned television channel which broadcasts sessions and arrange various talk shows on various constructive matters.
In reply, Hasina said she took initiative to introduce PM's question-answer session in parliament and live broadcast of parliamentary session on the national television and radio channels.
Somnath Chatterjee arrived here yesterday afternoon on a three-day visit at the invitation of his Bangladesh counterpart Advocate Abdul Hamid to attend an orientation programme for the newly elected MPs.