More JMB grenades, explosives seized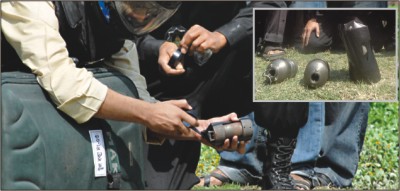 Staff Correspondent
Police and Rapid Action Battalion (Rab) in separate drives arrested seven more operatives of Jama'atul Mujahideen Bangladesh (JMB) from Gazipur, Jamalpur, and Nilphamari districts yesterday morning and Friday night.
They also recovered three grenades and a large amount of other explosives from the possession of the arrestees.
Gazipur police arrested four of the activists of the banned militant Islamist outfit, including a woman, with grenades and other explosives in their possession during a raid on a one-storey house in East Kalomeshwar of Sadar upazila early yesterday.
The arrests and weapons recovery in Gazipur were made after seven other JMB operatives including three women had been arrested the day before with seven grenades, a huge quantity of other explosives, and jihadi books and CDs in their possession.
They new arrestees are identified as Nasrin Aktar, 22, Atikur Rahman, 20, Zahid Hasan, 21, and Masud Rana, 22.
Nasrin is from Chinir Bandar in Dinajpur, Zahid from Sherpur, and Rana and Atikur are from Gaibandha. They were living in that house for the last two months, locals said.
The new arrests were made upon information given by Mamunur Rashid, a JMB operative who had exploded a grenade Friday afternoon injuring at least 13 people including nine police and three journalists while in handcuffs during a news briefing in the office of Gazipur police superintendent.
Nazmul Islam Khan, acting officer-in-charge of Joydevpur police station, told The Daily Star that the new arrestees said Nasrin's husband Mir Hossain is their leader. All of them confessed to being activists of the outlawed Islamist outfit, police added.
The bomb disposal unit of Rab diffused the grenades this time.
In another drive, police arrested two JMB men from Sarishabari and Sadar upazilas of Jamalpur district Friday night. They are identified as Mukhlesur Rahman Mishu and Abdullahel Kafi.
Our Nilphamari correspondent reported that Rab arrested another JMB activist from a char (shoal) in the River Tista around 5:00am yesterday.
The arrestee is identified as Monowar Moulana, 45, son of Golam Farid of Solmari Alsiapara village in Jaldhaka upazila of the district.
Rab-5 arrested him on information given by the JMB operatives arrested earlier.
Officer-in-charge of Jaldhaka Police Station Narendra Nath Sarker confirmed the arrest, but said Rab had yet to hand him over to police.
Talking to The Daily Star, Rab Director General Hasan Mahmood Khandaker said, "We can't say that JMB is not active, but now they are not that organised. They, however, are trying to reorganise themselves."
He declined to disclose the sources of JMB's explosives and funding, 'for the sake of investigation'.
Inspector General of Police Nur Mohammad said, "JMB is still active, but not to the extent that we can't handle."
The IGP admitted that they suspect the JMB operatives collected the explosives and made the grenades and bombs to carry out attacks.
"The organisation didn't spring overnight, so it will take some time to defeat it," the IGP added.