Remembering Syed Mohammad Ali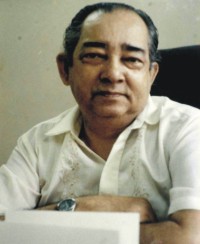 SYED Mohammad Ali, the founder editor of The Daily Star, requires no introduction. He was one of the few personalities whom I looked upon with awe and admiration. He was popularly known as SM in the world of journalism and was addressed as "Khasru," which was his nickname, by his very close relatives and friends.
Although he was my first cousin, Khasru Bhai hardly made any distinction between brother and cousin as far as I was concerned. One of the reasons that attributed to this relationship was the very deep personal attachment Khasru Bhai had with his uncle, my late father Dr. Syed Mujtaba Ali (Bengali litterateur), who actually introduced me to this unforgettable S. M. Ali. From what I had heard about Khasru Bhai from my late father, I had already painted an imaginary picture of this legendary person in my mind long before I actually met him.
I came into close acquaintance with Khasru Bhai after liberation. Before that, I was studying at Rajshahi Cadet College and, therefore, missed almost all the opportunities to meet him during his occasional pre-liberation visits to Dhaka. It was only after 1970, when we finally settled at Dhaka, that I found opportunities to see him on various occasions. In my first meeting with him, I immediately realised that I had come across a person who was every inch a gentleman with an amazing personality. Hardly have I encountered such a soft spoken, polite, and well-mannered person. And English? When he spoke, one could hardly realise that it was not his mother tongue. Needless to say, I became completely overwhelmed by the qualities that Khasru Bhai possessed.
He was quite fond of my late father. During our numerous discussions there was hardly any time when Khasru Bhai didn't refer to him. Once, sipping a cup of coffee in his house at old DOHS after he finally settled down at Dhaka, he remarked: "Do you know what uncle Mujtaba (your father) told me on the eve of my first visit to Europe?" I looked backed at Khasru Bhai with interest blazing in my eyes. S. M. Ali smilingly continued: "He told me not to have coffee in the same restaurant where I finished my dinner and other people were having their meal, because the smell of the food coming from all sides would then prevent me from inhaling the fresh odour of coffee which I would like to have at the end of my meal. So he advised me to go to a coffee shop after I had had my meal and take the coffee there to enjoy the air filled with smell of coffee only, which I did."
Bangladesh was born through bloodshed. The smell of gun powder was prominent in the air. The country was economically shattered, with bridges demolished, houses burnt and industries closed. Indeed, it was a challenge for the post liberation government to address the multifarious problems that cropped up. S. M. Ali visited Bangladesh, and lost no time in picking up the burning issues which confronted the government, and those found the way to his book, After the Dark Night.
In this book, S. M. Ali dealt elaborately with the problems the government was facing immediately after independence. After the book was published, he presented a copy of the book to my father Syed Mujtaba Ali who admired it, and was making notes on some of the pages which drew his attention as I discovered later.
S. M. Ali's attachment with my father is inexpressible in words. Their relation had deep roots, which dated from the days in Kolkata as far as back as the late 1940s when Khasru Bhai was a student and my father was staying in 5, Pearl Road, Park Circus, Kolkata.
S. M. Ali recollected the memories of the days he lived in Kolkata with a slight nostalgic touch in one of his articles published in The Daily Star in his very popular column "My World," where he dealt at length about his early days in Kolkata, how uncle Mujtaba exposed him to the literary circle of West Bengal which brought him close to none other than the noted critic of modern poetry the late Abu Sayeed Ayub and his wife Gauri Ayub.
As long as my father lived, Khasru Bhai never missed a chance to visit him at our Dhanmondi residence whenever he visited Dhaka. The two men passed long hours together on lengthy discussions covering wide range of topics, while my mother was busy supplying cups of tea at regular intervals. Uncle Mujtaba did most of the talking while nephew Khasru was a patient listener. On hearing the news of the death of my father, he wrote to my mother: "I want to know how my brothers Firoz (myself) and Kabir (my younger brother) have responded to this great tragedy." I regret that I do not possess that affectionate letter, which expressed nothing but deep love and concern for us.
Looking back to the past and recollecting the occasions of S. M. Ali's visits to Dhaka, that I fondly cherish, I cannot but help myself from being a little emotional. As and when profession brought S.M. Ali to Dhaka he used to put up most of the times at Hotel Intercontinental (later renamed as Hotel Sheraton) and later on at Hotel Pan Pacific Shonargaon. Although his brief visits to the capital were tightly scheduled, he still could spare some of his time by calling me occasionally to have breakfast with him. Normally he used to order a continental breakfast, which he knew I would like.
During breakfast he used to ask me about the atmosphere at Dhaka University, where I did my graduation and masters, about the political unrest that frequently cast its dark shadow on the political horizon of our country, and many other issues of journalistic interest. Although I was years younger than him in age, experience and knowledge, he, nevertheless, listened to me attentively, and then expressed his views over the issues that came up during our discussions.
S. M. Ali was out and out a journalist, having a deep commitment towards professional ethics. He is never known to have compromised on principles. As a true patriot, he always cared for his motherland, no matter how far his professional life took him from his country. During the liberation war, when he was posted at Singapore, he played a significant role in mobilising public opinion abroad for the pro-liberation forces operating in the then East Pakistan. At that time I and my only brother and our mother were staying at Dhaka. My father, who had earned the displeasure of the Pakistan government as far as back as 1948 for having written a book, Purbo Pakistaner Rashtrobhasha, had left Pakistan for good in the early fifties, and was staying at Kolkata when the crack-down on East Pakistan started on the March 25, 1971.
As the news of genocide committed by the occupation army became known to the outside world, my father became alarmed and was anxious to know about our welfare since he was always worried that we would face the wrath of the military regime due to his anti-Pakistani views. Since it was impossible for our father to gather information about Dhaka directly from Kolkata, he asked Khasru Bhai working in Singapore to inquire about us. Khasru Bhai (S. M. Ali) readily obliged. During the entire liberation period he used to communicate with Dhaka on a regular basis through his own mechanisms, and passed on the information to my father regarding the country in general and us in particular.
Another person who did a similar thing was another nephew of my father's, late A.S. Mahmud, who later became the chairman of ETV and was one of the founders of The Daily Star as well. Mahmud flew to London in the middle of 1971, after narrowly escaping arrest by the Pakistani military regime. Nani Bhai, as I called him, like Khasru Bhai, played the role of media man from London, communicating both with Dhaka and Kolkata.
S.M. Ali has left behind him a distinguished and a successful career as a journalist. His remarkable journey in the world of journalism dates back to the early fifties, when he joined the newly launched Pakistan Observer in 1949 as its first staff reporter while studying in the English department of Dhaka University. His dream of becoming a full-fledged journalist brought him to England for pursuing higher studies in journalism, where he worked with News Chronicle of London and also with the BBC. S. M. Ali returned to Pakistan in 1954 and joined the Dawn in Karachi, and rejoined Pakistan Observer in 1956 as a staff reporter. In 1960 he joined The Pakistan Times as assistant editor.
S. M. Ali's career took a crucial turn when, in 1962, he became the assistant editor of the Hong Kong based regional publication The Asia Magazine. From that point of time onwards S. M. Ali never looked back. His journalistic talent coupled with his dedication brought him to even higher levels of status and responsibility in the international arena of journalism, which includes the post of managing editor of Thailand's English language daily, the Bangkok Post (1966-70), the roving foreign editor of the Singapore afternoon daily, New Nation (1971), and a year later as contributing editor of the new weekly regional news paper, The Asian. In late 1972, Khasru Bhai found himself as managing editor of the Hong Kong Standard, and in 1977, S. M. Ali joined the Manila based Press Foundation of Asia as its Executive Director, and continued to serve there as CEO till 1981 when he joined Unesco as it's regional communications advisor for Asia and Pacific based in Kuala Lumpur.
On retiring from Unesco in 1988, S.M. Ali joined the Bangladesh Observer as the editor in June 1989, the institution where he once worked at the infancy of his career. But his uncompromising stand in matters of principle did not allow him to continue there for more than six months, when he tendered his resignation at the end of the year. It may also be mentioned that he was an advisor to the United News of Bangladesh (UNB) for a few months in 1990. By that time, he had already settled in Dhaka with his wife Nancy Wong, a lady of Chinese origin, in a quiet apartment of old DOHS.
At this point, I would be lacking in my responsibilities if I didn't put in a few lines about our dear Nancy Bhabi, who was not only the life partner of Khasru Bhai but also a co-worker in the journalistic activities of S.M.Ali, which he acknowledged time and again. I had visited them quite a number of times in their flat situated on the first floor of the house at old DOHS, and had the opportunity to taste the cakes and many Chinese recipes prepared by Nancy Bhabi on a number occasions. By that time, she had become quite intimate with my family and became particularly fond of my eldest son Muddassir, then a tiny boy, whom she frequently addressed as chalak chhele (intelligent boy) as she tried to talk in Bangla with him.
S. M. Ali's launching of The Daily Star in 1991 was a great historic event. For months together, we were waiting for that memorable event. It was his dream of creating his own newspaper in his motherland, and that ultimately came true. S. M. Ali's experience, coupled with his hard work with a dedicated team, took The Daily Star to great heights in no time. Circulation accelerated, and so did its popularity. And now one can say without the slightest hesitation that The Daily Star is the pick of all English dailies of our country, from any perspective of comparison.
Thus, S. M. Ali's outstanding role as the founder editor can hardly be overemphasised, and will be remembered in the history of this distinguished daily. Yet, lived he not long. Unknown to him, as well as to his loved ones, the claws of death were silently approaching to snatch him away from us. It was the later part of 1993 then, and S. M. Ali, at the peak of his editorial role, was becoming immensely involved with multifarious functions as The Daily Star was expanding in its publication each day that followed the other.
I, too, working in a private bank, became awfully occupied with my profession, which barred me from maintaining the frequency of my visits to him. But news that he was not keeping well came to my ears, and I was thinking of paying him a visit when suddenly the news came that he was going abroad for treatment in early October 1993. I found myself ringing the door bell of his house the evening before the day he flew for Bangkok.
Nancy Bhabi appeared at the door with signs of anxiety in her eyes. "Bhabi how is Khasru Bhai?" My question was instant. Already aware of the gravity of the illness, Bhabi whispered "Firoz, it is serious, we are taking him to Bangkok tomorrow. He still doesn't know what is all about." Nancy could not continue any further since S.M. Ali entered the drawing room at that very moment, with a white patch on his neck. He greeted me with the same warmth and affection, although I could feel that the shadow the illness cast over his body and mind had made him considerably weak. "How are you Bhai ?" I asked him, holding the hand which he extended towards me. He answered: "Firoz, one question I had been repeatedly asking my doctors, how bad it is? But they have not been able to give me an answer." I told Khasru Bhai not to worry, and assured him that it was certainly for the better that he was going to Bangkok for medical treatment and that we would be eagerly waiting for his return home. But little did I know then about the ferocity of the disease that took away this precious life.
Khasru Bhai inquired as usual about my wife and children, and we were talking casual when the door bell rang. I got up from the sofa to open the door, and in stepped Mr. Mahfuz Anam of The Daily Star. The two immediately entered into the last professional discussions before the departure of S. M. Ali. S. M. Ali expressed his deep concern about the young generation, specially the students, and asked Mahfuz to watch and warn them against drug abuse and other detrimental habits which were influencing the lives of the students. As their talks continued, I could feel the very high opinion and the confidence S. M. Ali had on Mahfuz Anam, that was being reflected in his last moment advice. At one point Mahfuz Anam humbly said: "I can hardly be a substitute for S. M. Ali." S. M. Ali promptly remarked: "No one can be a substitute for anyone. Each has a distinct style of his own."
The discussions continued for some time when the door-bell rang once again, and Mr. Latifur Rahman, one of the founder owners of The Daily Star entered the room. At that point, I thought that it was time for me to depart and let the others continue their official discussions more conveniently without the presence of someone not belonging to their group. I, therefore, stood up and asked leave from S. M. Ali. Khasru Bhai extended his hand towards me for a farewell handshake and said in a soft voice: "Firoz, doa koro (pray for me)." I nodded my head and walked quietly out of the room closing the door behind, never to see him again.
Outside Old DOHS, the evening Dhaka was illuminated with street lights and neon signs, and heavy traffic was moving along the main road leading to the airport. Suddenly an uncanny feeling crept up in my body. In spite of the continuous roar of the countless automobiles and the voices of multitude of people I suddenly found my surrounding empty. For a few moments I stood motionless on the pavement amidst the crowd around me, and felt very lonely.
S. M. Ali's untimely departure from us has been a great loss to the journalist world. Personally, I lost an older brother and friend. As a champion of democracy and a relentless soldier for upholding the freedom of press he will be remembered long. He was a dreamer about the future political culture of our country, which was manifested in his only novel, Rainbow over Padma, in which we see the image of S. M. Ali reflected in the actions of Rafique Anwar, the hero of the book, and Sara who has a striking resemblance with Nancy Bhabi.
It is now over thirteen years that S. M. Ali, my dear Khasru Bhai, left us for eternity. And yet, I still feel his presence all the time with his last words that he spoke to me: "Firoz please pray for me," still ringing in my ears. Today I, with the feeble attempt through these lines, write to commemorate the fourteenth death anniversary of this remarkable personality. Everyone dies but a few live on.
Syed Musharraf Ali is a freelance contributor to The Daily Star.