BCL men clash to lash reunion
20 hurt in their 30-minute antics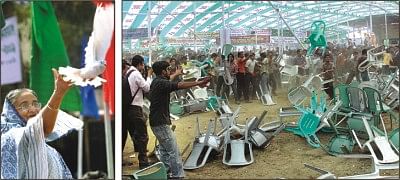 Activists of different units of Bangladesh Chhatra League (BCL) yesterday clashed with each other over a trifling matter during its reunion in the city's Paltan Maidan that left at least 20 people injured.
The clash ensued about 11:30am among the BCL activists from Dhaka College, Jagannath University, Government Titumir College and Dhaka Polytechnic Institute following an altercation over sitting at the venue before Prime Minister Sheikh Hasina arrived.
The BCL activists hurled plastic chairs at each other and chase and counter chase around the area marked the half hour-long mayhem, leaving at least 20 people injured.
A good number of BCL leaders and activists, particularly females were seen leaving the venue because of the clash.
The clash offended Awami League senior leaders and ministers who went there to attend the programme.
Finding no other alternative, Jubo League President Jahangir Kabir Nanak and General Secretary Mirza Azam took the loudspeaker and asked the troublemakers to calm down.
Through the loudspeaker, they also requested the activists not to leave the venue to make the programme a success and warned that stern action will be taken against the troublemakers as the footages were being taken.
BCL General Secretary Mahfuzul Haider Chowdhury Roton told The Daily Star that they will form a probe committee to investigate the incident and stern action would be taken against those responsible for it.
Nine of the injured were given first aid at Dhaka Medical College Hospital. They are Jasim Uddin, Fazle Rabbi, Rakib and Taposh of Dhaka College and Mostafizur Rahman, Shakil Ahmed, Joy and Mithu of Dhaka Polytechnic Institute and Rasel, a student of Mohsin Hall of Dhaka University.