Klinsi targets leaders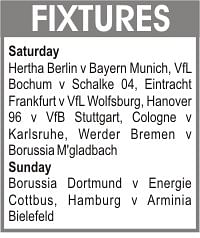 Bayern Munich coach Jurgen Klinsmann insists his side will give Bundesliga leaders Hoffenheim no peace until they are back at the top of the table - starting this weekend.
With Hoffenheim playing fifth-placed Bayer Leverkusen on Friday, defending champions Bayern can go top if they pick up all three points against Hertha Berlin at the Olympic Stadium on Saturday and Hoffenheim only manage a draw or worse.
Despite being second in the table, Bayern have yet to claim top place in the league this season - mainly due to some erratic form.
Having started the year with a shock defeat at Hamburg which left them fourth, Bayern were the only team in the top five to win last weekend and they are now just one point behind Hoffenheim.
"We're close to Hoffenheim. We'll not leave them in peace now, and we want to overtake them in the next few weeks," said Klinsmann whose side beat Dortmund 3-1 last Sunday.
And the players are getting restless with the situation.
"We're all aware of the standings," said Bayern goalkeeper Michael Rensing.
"We want to go top as soon as possible, as we're tired of playing catch-up. We want the others looking at us."
Klinsmann says his side must ignore results elsewhere and concentrate on their own performance.
"It's only a matter of time. We'll pass Hoffenheim soon," said the ex-Germany boss.
"If we stop dropping points, we'll automatically go top of the pile at some point.
"We've learned from our set-back in Hamburg. We have to follow up after successful displays."
Berlin will have captain and Germany defender Arne Friedrich back after a back injury while Bayern only have defender Massimo Oddo missing, through suspension.
Fourth-placed Hamburg meanwhile are looking to bounce back from their shock 3-2 defeat at Karlsruhe last weekend when they host Arminia Bielefeld on Sunday.
Croatia striker Ivica Olic goes straight back into the Hamburg side after his ban for fighting in a friendly against Hoffenheim in January.
But top-scorer Mladen Petric is banned after being shown a red card last weekend at Karlsruhe.
Having taken over the Stuttgart helm in November after Armin Veh was sacked, Markus Babbel has pulled the team up to sixth place and they are at strugglers Hanover on Saturday.
After going into freefall in the league, Werder Bremen host bottom side Borussia Moenchengladbach with coach Thomas Schaaf having been given the dreaded vote of approval by Bremen bosses.
Schalke are eighth in the league and are home to second-from-bottom Bochum, but things took a bizarre twist on Wednesday when a hacker posted an announcement on their website saying Kevin Kuranyi had been released.
The club immediately denied it, but Kuranyi has been a forlorn figure recently and the false announcement even tricked a few of his team-mates.
In the weekend's other fixtures, mid-table Borussia Dortmund host Energie Cottbus, Karlsruhe travel to Cologne and Eintracht Frankfurt host VfL Wolfsburg.