Ahsanullah University
Unruly students confine teachers, staff for 10hrs
Freed after police action; 20 hurt; 5 held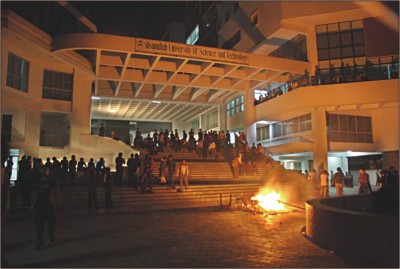 Police freed over three hundred teachers and employees of Ahsanullah University of Science and Technology (AUST) from their terrible ordeal of confinement for over 10 hours at its Tejgaon premises.
About 600 students of the Civil Engineering Department of the university confined those teachers and employees to the university building at 11 am protesting the expulsion of their two fellow students.
Police freed them at 9 pm by charging truncheons on the agitating students leaving around 20 students injured while five others were arrested.
The students padlocked the main entrance of the university and vandalised its furniture demanding cancellation of the authorities' decision of expelling the two students.
During the agitation, they also set chairs, tables and other furniture on fire in the evening and said they would not sit for the exams scheduled for Saturday.
Witnesses said confined teachers and staffers of the university including women remained unfed from 11 am to 9:30 pm.
The university authorities on February 3 expelled those two students of the Civil Engineering Department for three terms for their brawl with students of the Electrical Engineering Department on November 27.
Following the incident of November 27 a probe committee was formed that recommended expulsion of the two students on January 10.
But the protesters termed the investigation report biased and demanded withdrawal of the decision. They said they would stay back on the campus until their demand is met.
AUST Vice-Chancellor Kazi Shariful Alam told The Daily Star many of the teachers and employees fell sick, as they remained confined for a long time.
When asked the VC said he could not change the decision of the university syndicate.
Replying to a question, the VC said they would not file any case against the students who confined them and set fire to the furniture.
Earlier, over 250 police and RAB personnel sealed off the area and waited till 9 pm for a mutual solution. As the situation was getting worse they swung into action and freed the confined teachers and students.
Mahbubor Rahman, deputy commissioner for Tejgaon zone of the DMP, said they resorted to baton charge only to free teachers and students confined for hours without food.
The DC confirmed that the law enforcers picked up five students in this connection.