2 treaties penned to boost bilateral trade
Connectivity, regional task force, border discussed during visit by Indian FM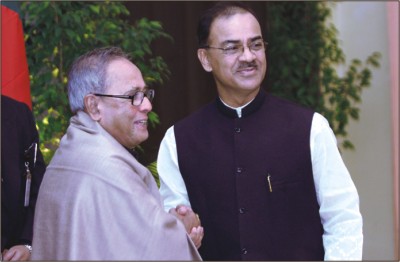 Bangladesh and India yesterday signed a new bilateral trade agreement while renewing an old one, to bolster trade and investment between the two neighbouring countries by removing some of the barriers.
The two countries also discussed strengthening connectivity, formation of a regional anti-terrorism taskforce, peaceful border management, and finalisation of the demarcation of land and maritime boundaries.
Bangladesh Industries Minister Dilip Barua, and visiting Indian External Affairs Minister Pranab Mukherjee signed the new Bilateral Investment Promotion and Protection Agreement (Bipa), which seeks to promote and protect investments from either country in the territory of the other, with the objective of increasing bilateral investment flow.
The Indian minister arrived in Dhaka on a day long goodwill visit in the morning.
With Bipa signed, Bangladesh and India will from now on consider each other the most favoured nation (MFN).
Under the renewed bilateral trade agreement signed between Bangladesh Commerce Minister Faruk Khan and Mukherjee for three more years, both countries will now be able to use each other's waterways, roadways, and railways for transportation of goods between two places in one country through the territory of the other.
Bangladesh government high officials said if the treaty originally signed in 1980 is implemented, not only India will be benefited in transporting goods to its north-eastern states, but Bangladesh will also have a huge economic boost by being able to use the territory of India to reach Nepal and Bhutan with its goods.
The signing ceremony took place in Hotel Sheraton of the capital after Mukherjee had formal talks with his counterpart Dipu Moni, and Bangladesh Home Minister Sahara Khatun.
Dipu Moni said during the talks they had a comprehensive discussion on how Bangladesh and India can move forward.
She said they discussed practical ways for promoting economic relations, two-way trade, reduction of trade gap, and increasing investment.
The Indian foreign minister said they talked about security, border management, strengthening of connectivity, promoting trade and investment, and people-to-people contact.
"Our discussions on connectivity related issues were constructive where we shared our views on the matter with specific focus on our national interests," Dipu Moni told a joint media conference.
She also said, "We shared our ideas of a South Asian task force that can be useful in promoting cooperation to complement independent national actions of all willing countries joining the task force."
She said she also categorically assured her counterpart that 'Bangladesh will not countenance any anti-Indian activity by elements inimical to the interests of India using Bangladesh territory'.
The Bangladesh foreign minister also sought India's cooperation against elements who are trying to harm her country.
Dipu Moni hoped Mukherjee's visit will open a new phase of coordination and cooperation between the two countries on a whole range of bilateral, regional and international issues.
"He has come here not only to congratulate the people of Bangladesh, but also carrying a message from the Indian Prime Minister Manmohan Singh for our prime minister," she said.
Terming the talks with Dipu Moni and Sahara Khatun very fruitful, the Indian minister said they discussed the entire gamut of bilateral relations.
"Our relations have witnessed an upwards showing in the recent past," he told the briefing, adding India as a friendly neighbour remains committed to supporting the people of Bangladesh, and to strengthening its relationship with the country.
"Today we signed two agreements, one on bilateral trade and the other on bilateral trade promotion and protection. These will further strengthen the framework for trade and investment between the two countries."
On connectivity, Mukherjee said both countries are undertaking several initiatives to improve infrastructure including customs stations, roads, railways and river routes to facilitate greater economic engagement. He urged the private sector of both countries to seize the opportunities.
He said an area of concern for both countries is to combat growing extremism and terrorism in the region.
"Closer cooperation on security issue is the need of the hour. We should move to address the issue with an understanding, so both the countries are benefited in the long run," he observed.
Asked about India's response to Bangladesh Prime Minister Sheikh Hasina's initiative for a South Asian anti-terrorism taskforce, Mukherjee said as far as the concept of the taskforce is concerned, there are already certain regional and international mechanisms in place.
He said he discussed the architecture of the proposed regional joint anti-terror taskforce with the Bangladesh foreign minister, adding, "What is more important is the sincerity to fight against terrorism. It can be achieved if we have bilateral, regional and global mechanisms."
Mukherjee also said if there is inability, incapability and unwillingness to tackle terrorism, then the problem arises, and architectural framework does not stand in the way of fighting terrorism, whether it is bilateral, multi-lateral or global.
About the modalities of the proposed taskforce, Dipu Moni said Prime Minister Sheikh Hasina will discuss her proposal with other countries in the region as well, to figure those out.
Replying to a question of an Indian journalist, she reiterated her government's firm stand against terrorism.
"We will not allow anyone to use our territory to harm anyone in the region. If we have concrete information we will definitely act on it," asserted Dipu Moni.
Regarding border firings and killings of Bangladeshi farmers by Indian Border Security Force (BSF), Mukherjee said the issue was a major ingredient in the 'plan of action' of Bangladesh Rifles (BDR) and BSF during a talk between their chiefs, and they were expected to find a way to evade deaths at the border.
Replying to question by a Bangladeshi journalist on trade gap between the two countries, he said he is aware of the imbalance, and every time the two sides discussed the issue they tried to explore ways for reducing the gap.
"Being a former trade minister I can respectfully tell you there is no mechanism through which bilateral trade between two countries, in respect of each and every country, could be balanced. It is not possible," the Indian senior minister said adding, "But surely it is possible to reduce the gap and to keep it within a manageable limit."
Bangladesh and India have a trade gap of about $2 billion a year.
Pranab Mukherjee, who is acting as the prime minister of India now, during Manmohan Singh's recovery from a surgery, also called on Bangladesh Prime Minister Sheikh Hasina yesterday before departing at night.