Take measures for more overseas jobs
Wahiduddin urges govt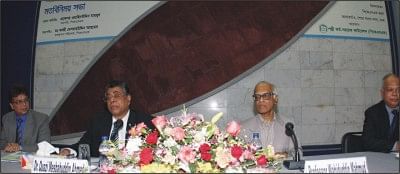 The government should take necessary measures for more overseas employment to reduce poverty and earn increased remittances, said eminent economist Professor Wahiduddin Mahmud yesterday.
"Overseas employment is important for a poor country like ours, it is not only a way of earning remittance but also a means to eliminating poverty," said Mahmud, also the chairman of the governing body of Palli Karma-Sahayak Foundation (PKSF).
"Therefore the government should explore new markets to export manpower and also take steps to remove hurdles in this regard," he added.
He was speaking at a views exchange meeting on Financial Assistance for Overseas Employment for the Extreme Poor in North Bengal, organised by PKSF at its auditorium in Dhaka.
In May 2008, PKSF and the Bureau of Manpower Export and Training (BMET) signed a memorandum of understanding (MoU) to assist the unskilled and semi-skilled workers in the monga-affected (near famine situation) areas to go abroad.
Under the MoU, the PKSF will organise training programmes for these workers and give them financial assistance with regard to their airfare, while BMET will arrange employment.
Under this programme, 27 people have been sent abroad for employment, mainly to Malaysia, Dubai and Abu Dhabi.
Professor Mahmud lauded the role of PKSF for assisting the programme by disbursing loans at seven percent interest rate among the extreme poor in the Monga-affected (near famine situation) areas to support overseas employment.
"The loan and the rate of interest are convenient to the extreme poor in that region to pay back in three years," he said. "People who already travelled abroad have begun sending money back to their families, to pay back their loan commitments."
"Commercial banks of the country can be encouraged to disburse loans at low interest, among the poor and extreme poor of the Monga-hit areas," he added.
Dr Quazi Mesbah Ahmed, managing director of PKSF, said the foundation initially allocated Tk 10 crore for this project.
He said PKSF is assisting these people to go abroad by organising orientation programmes, health check-up and issuing passports.
Hazrat Ali, additional director general of BMET, said the BMET ensures that these people are only charged the rate fixed by the government, which stands at Tk 84,000.
BMET will also help these people bypass the hassles often created by the recruiting agencies, he added.
Nine partners of PKSF, now working in the northern region, are also supporting this project.
Dr Jashim Uddin, programme coordinator of PKSF, was also present at the meeting.