US offers to assist in manning sea borders
But rules out the idea of setting up military base; says Tifa not an issue for Bangladesh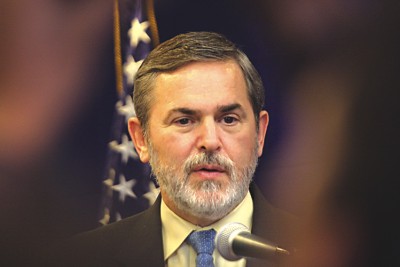 The US will assist Bangladesh in protecting its mineral-rich sea areas in the Bay of Bengal, US Assistant Secretary of State for South and Central Asia Richard A Boucher said yesterday.
But Boucher said the Trade and Investment Framework Agreement (Tifa) provides some basics and principles for further discussions to see what further steps could be taken to improve bilateral trade and investment.
"Truly, it is not an issue for us right now; surely not an issue for Bangladesh," he said at a news briefing at the Zia International Airport, wrapping up his two-day official visit to Bangladesh.
The new administration in Washington and the new trade representative will review all standard agreements and negotiations, he said, adding that the modalities of the proposed cooperation in maritime patrol depends upon Bangladesh's requirement within the US ability.
"I think there is some interest in maritime patrol so that you can protect your sea areas better. There are some areas where we can help their activities on what they tell us," Boucher said.
The US envoy, however, ruled out the notion of setting up any US military base in Bangladesh: "We are not looking at any base here. We have a lot of cooperation with different countries, different governments and agencies," he said in reply to a question.
The issue of cooperation in marine patrol came up for discussion for the first time in the backdrop of a row over oil and gas exploration by Myanmar authorities in Bangladesh's territorial waters in November last year.
Both Bangladesh and Myanmar had even moved war ships in the Bay to establish their claims. Diplomatic efforts involving China and South Korea apparently put the row to an end.
Bangladesh, which formed an experts committee for demarcation of its maritime boundary in line with the UN Law of the Sea, had claimed in December that an Indian survey ship allegedly intruded into Bangladesh's territorial waters.
Boucher appreciated Bangladesh's proposal for South Asian anti-terrorism task force, saying the countries in the region need to cooperate to combat terrorism. "We will extend supports in this regard if the countries want some kind of support from us."
On Mumbai bombings, he said it was a horrible attack and it needs investigation to arrest and punish the terrorist groups responsible. He said Pakistan needs resolute action against terrors and that they started to see that kind of action so that such an incident does not happen again.
Earlier Boucher held talks with Foreign Minister Dipu Moni and State Minister Hasan Mahmud at the foreign ministry where he said Dhaka and Washington at this point have no active negotiations on Tifa.
Talking to reporters after the talks, he said they did not talk about Tifa during the meeting yesterday.
Elaborating on the US stance on the much-debated Tifa, Boucher said the new administration in Washington wants to look at various trade agreements and negotiations before they get started. "I wouldn't be too much excited about the Framework agreement," he added.
He, however, said Tifa is a simple trade agreement under which both the countries could discuss common issues to boost up trade and investment.
Boucher called his trip a "welcome visit" to explore the areas of cooperation between new governments in Dhaka and Washington headed by Prime Minister Sheikh Hasina in Bangladesh and President Barack Obama in the US.
He identified new areas of cooperation like climate change, agriculture and healthcare and gave assurance to continue US support for Bangladesh. Despite global economic trouble, Boucher said the level of US assistance to Bangladesh would be maintained or increased.
Appreciating the December 29 general election, Boucher said the polls set a new standard to democracy in Bangladesh because of which, he thinks, people have very high expectation to the government.
"It is important to the people of Bangladesh to strengthen democracy and institutions like the Election Commission, Anti-Corruption Commission, Human Rights Commission and the judiciary to protect the democracy and have better election," he said.
He expressed hope that the ruling party and the opposition would work together in parliament and hold healthy debate on national issues of importance.
Boucher, who arrived on Saturday to talk to the new government in Bangladesh, said the US likes to support strengthening democracy, moving against corruption, working hard against terrorism and bringing benefits of economics and development to the people of Bangladesh.
"Those are the areas where the US wants to be involved with Bangladesh. We'll find more and more areas where we can work together," he said.
Boucher and the Bangladesh foreign minister also talked about climate change, which Boucher said is a high priority for the new administration in Washington as well as that in Dhaka.
Boucher also held talks with the prime minister, the leader of the opposition, the ministers for home and law, justice and parliamentary affairs, and the speaker of Jatiya Sangsad.