<i>Kali O Kolom: Magh</i> 1415 - January 2009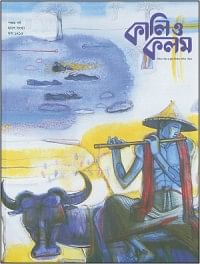 This beginning-of-the-new-year issue of Kali O Kolom is justly an invigorating one, a sentiment that is echoed by Ashrifa K Nova of Tejgaon, Dhaka, writing in her letter to the editor that readers expecting to encounter something new in the pages of Kali O Kolom are seldom disappointed. The two opening articles, in a sort of contrast of two quite different authorial temperament and style, are on Syed Waliullah and Buddhadev Bose, with the former focusing on the writer's short stories while the latter one discusses Bose's modernism. Harishankar Jaldash contributes an engrossing piece on Ghanashyam Choudhury's book Obogahon in the context of the humanism that began to be apparent in Bengali literature from the activities of the circle of writers and thinkers that included DeRozio-Ram Mohan Roy-Vidyasagar-Madhushudhan-Bankimchandra-Rabindranath, with their natural sympathy for the underdogs and untouchables in a deeply caste-ridden society. The novel's action centers around the Naxalite movement in the year 1977, and Ghanashyam was awarded the 2001 Ramananda Chattapadhya Memorial Award for it.
Among the short stories in this volume two, 'Baba'r Chobi' by Zafar Talukdar and 'Hijack' by Sudarsan Saha, are notable, with Saha's story being accompanied by the fluid lines of Ranajit Das, which seem perfectly adapted for magazine illustrative purposes. Syed Manzoorul Islam has written a graceful piece on the playwright, Nobel Prize winner and conscientious soul Harold Pinter, discussing three of his most celebrated plays within the context of having to teach them in class at Dhaka University. The poets published in this issue of Kali O Kolom are Rafiq Azad, Hayat Saif, Titas Chowdhury, Iqbal Aziz, Shafiq Alam Mehdi, Tapan Goswami, Kamal Mahmood, Nazmul Hayat, Saifullah M Dulal and Jahangir Islam. Without a doubt, however, the most outstanding piece in this issue is a translation of American writer Grace Paley's 'A Conversation With My Father' by Rifat Munim. Grace Paley was born of Russian-Jewish immigrants, studied with Auden in New York, and tenaciously held on to her socialist beliefs till the last. It is an inspired choice for translation, for it introduces to Bengali readers a genuine American voice, somebody who was far from the current crop of 'celebrity' writers continuing to give American letters a bad name. Here one has to fully commend Editor Abul Hasnat on this choice. The other very readable piece is on Cavafy, the Greek poet who paid lifelong homage to the city of Alexandria, amid personal and familial decline in fortunes. It is accompanied by Bengali translations of his poems; the translations read very well, furthering the popular notion that Cavafy is one of those rare poets who holds up well in another language.
There are in addition theatre and book reviews, a look at Rafiq Azam, one of Bangladesh' bright lights in the world of architecture, plus a lively account of a film festival in Bubhaneswar by Shabnam Ferdousi. There is also an interview of artist Paritosh Sen, who reveals himself to be a reader of Jhumpa Lahiri and Arundhati Roy. Finally, this review would be remiss if it did not mention the striking cover painting, another felicitous choice, titled Grissher Dupur (Summer Noon) by noted artist and present dean of the Institute of Fine Arts Rafiqunnabi. Who in past issues has also proved to be no mean hand with the pen. Or keyboard, as the case may be.
Khokon Imam works for a Dhaka NGO.