The other side of the story
Judging a talent show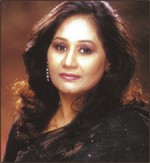 Music is an integral part of our lives and everything we do is somewhat related to music. "Close Up 1: Tomakei Khujchhey Bangladesh" was like a breath of fresh air for the TV audience, delighting and mesmerising music lovers all around the country. Renowned artiste Fahmida Nabi, who recently made waves with her song "Lukochuri lukochuri golpo" (from the film "Aha!"), was a judge on "Close Up 1", one of the most watched shows on television and was accompanied by the noted music composer Ahmed Imtiaz Bulbul and popular singer Partha Barua.
"I've always believed that without active participation of the young, nothing good can materialise, and this show has discovered and introduced the finest singing talents from all corners of the country. Youngsters with big dreams have proven their mettle on this platform," says Fahmida, adding, "I've been with 'Close Up 1' from 2005 and the situation was pretty different back then. Hip, urban youngsters were not that keen on traditional Bangla songs and many alleged that this show was copied from American and 'Indian Idol'. I think there's no harm in learning from others. More importantly this show revived an interest in mainstream Bangla songs. Young people were listening to more Bangladeshi music and studios got busy producing more albums."
This was the third instalment of the programme and the judge thinks that instead of holding the show every year the contest should be held every two years to add more variety.
"We should aspire to do even better in future and bring about more changes. Directors, judges, participants, associated partners -- everyone should be equally involved in the show," she suggested. When asked what she would like to change in the show, the artiste said, "Judges' evaluations and pointers should be taken seriously. We belong to the world of music and logically should know more about the details and potential of the participants. At least 70 percent of the score should come from the judges and the rest from the audience."
"A capable singer should know when to emote and how to restrain when necessary," she added.
After weeks and months of nerve wrecking grooming and competition, the journey towards achieving the ultimate goal finally came to an end. But there were rumours about discord and disagreements among the people involved with the show. "When a lot of people work very closely round the clock under a lot of pressure, a bit of misunderstanding tends to emerge. I just hope that the winners utilise their opportunities properly. I truly appreciate the roles of Unilever, ntv, Adcom, the media partners and everyone else involved with the show. Without them this show would never have been possible. Last, but definitely not the least, heartfelt gratitude to the audience of our country who interactively took part in the show by voting. That is why this show is so popular today. I think everyone has been a part of this reality show," Fahmida said.
The writer is a freelance contributor.