Hawkers occupy sidewalks again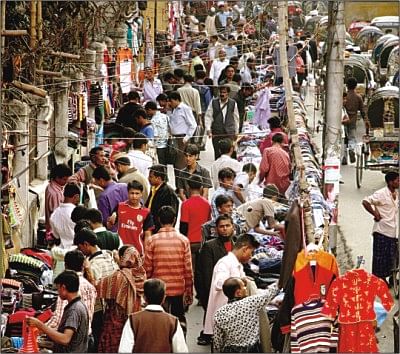 In the month of January last year, city pedestrians found a pleasant surprise waiting for them in the streets.
It may not seem much to some. But it was a shocker for many. Pedestrians found that they can actually 'walk' on the sidewalks without the usual routine of dribbling and elbowing across rows of street vendors and crowds of buyers.
"It felt like I am in another city," said Mosaddeq Hossain from Fulbaria. "I could hardly believe my eyes when I saw the pavements were all empty in front of Bangabazar".
However, a year has passed since the massive eviction drive by the police to remove street vendors from city pavements.
And unsurprisingly, most of the hawkers and perhaps more seem to have made a comeback reclaiming their 'territories'.
Flocks of street hawkers and vendors are seen trading their goods in some of the busiest streets and pavements in the city. The most notorious are probably the pavements stretching from New Market and Chadnichawk market to Science Laboratory.
However, the biggest proportion of hawkers in the city probably operates on the pavements starting from Gulistan to Motijheel. Then there are masses of hawkers operating in the pavements of Farmgate, Malibagh, Fulbaria, Mohakhali and Kakoli.
Hawkers are seen occupying even street spaces to sell their goods. One good example would be Karwan Bazar, the second biggest commercial hub of the city. Many hawkers are operating occupying street space disturbing the flow of traffic in this busy area.
However, the authorities seem to remain silent about it.
"Yes, I agree the hawkers should be evicted from the street, not that they are nuisance but because of them the city becomes chaotic," said a top official at Dhaka Metropolitan Police (DMP).
"Their small shelters all over the city pavements leave little to no walking space for pedestrians. This serves as a breeding space for petty criminals, not to mention the eyesore they become," he said.
City dwellers say it was due to the laxity from the authorities that street hawkers found their way back to the streets.
"They stayed off the pavements for a few months, and then were back in the street, and their number increased. It kept increasing and then suddenly things went back to the way it used to be a year ago," said Mahbubul Alam, a resident from Monipuri Para.
Then there were 'holiday markets' that were set up on designated city spots to rehabilitate evicted vendors.
Under the scheme, vendors are allowed to trade their goods between 8:00am and 5:00pm every Friday on specified streets.
The places designated for the five holiday markets are north side of Manik Mia Avenue, the road beside Matsya Bhaban (Segunbagicha), a portion of the road in front of Motijheel Ideal High School, a portion of the road from Palashi intersection to Nilkhet and Shialbari slope on Dhaka Zoo Road in Mirpur.
The scheme received poor response from both the vendors and customers.
"It was a poor move, even more poorly executed," said M Waliullah Patwari, chairman of Bangladesh Sammilito Hawkers' Parishad.
"We experience a modest crowd of customers and little transactions. Moreover, the places specified for the holiday markets were too small to accommodate vendors from other areas. The number of streets should be doubled to make room for the extra 15,000 to 16,000 vendors," he said.
"Our customers are usually pedestrians who tend to shop on their way to their destinations. Therefore, there is no way to expect them to come to the designated holiday markets for buying things," said a handkerchief seller on Manik Mia Avenue. "The fact that there are less pedestrians on holidays only made the situation even worse," he added.
Many city dwellers seem to hate the idea of sending hawkers off the streets.
"Eviction of hawkers will deny many of their source of livelihood. Getting a shop may sometimes be too expensive, so the only way out is to go out and sell," said Mobarak Hossain, owner of a shop at Gulistan.
"They can be regulated by the government to prevent its abuse," he said.
"I do not think street hawkers are a nuisance. They sell things at a cheaper rate. The government should give them a central place where they can sell their goods. If they are evicted from the streets where will they go to?" said Ishitiaq Hossain, a student of Dhaka University.
According to a study conducted by Bangladesh Occupational Safety, Health and Environment Foundation, 46 percent of the street vendors in Dhaka are permanent while the rest are seasonal. Nine percent of the total are women.
The study also found 29 percent street vendors as illiterate, seven percent with minimum literacy, 24 percent studied from class VI to SSC level and one percent up to HSC level.