Stark Gaza images at RU exhibition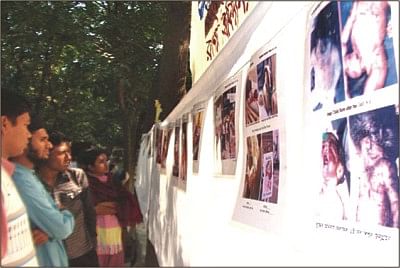 The Rajshahi University unit of Bangladesh Chhatra Union (BCU) recently organised a two- day photo exhibition on the Israeli genocide in Gaza. The exhibition was held before the university's Mass Communication and Journalism Department.
The rather disturbing images on display, about a hundred, depicted the killings of thousands of women and children in Gaza.
On the occasion, BCU also held a protest programme, calling for measures to end the massacre of innocent civilians in the holy land.
Several hundred teachers, students and visitors visited the photo exhibition and noted their comments down. The comments were by and large a call to end the violence in Gaza.
BCU president Abu Sayem, vice president Hassan Imam, general secretary Rafi Ahmed and organsing secretary Tusher Kanti Das addressed the gathering at the protest programme.