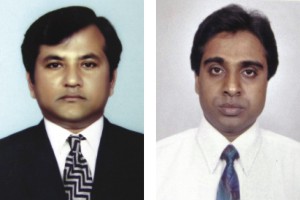 ICAB, Ctg executives
Senior General Manager of KDS Group Modassar Ahmed Siddiquee and Head of Finance of S Alam Group Subrata Kumar Bhoumik were elected new chairman and honorary secretary of the Institute of Chartered Accountants of Bangladesh (ICAB), Chittagong region.
The regional committee of ICAB at a recent meeting here made the selection.
Newly elected Chairman Modassar is an ICAB fellow. He served in different top posts at BSRM and Aramit Group.
Honorary Secretary Subrata passed chartered accountancy in 1999 and had earlier served in various firms before joining S Alam Group, said a release.
Tribute to CU teacher
Speakers at a condolence meeting paid rich tribute to Dr Andrew Alok Dewary, assistant professor of communication and journalism department of Chittagong University (CU), who committed suicide on January 6 at his city residence.
"The tragic death of Dr Alok is an irreparable loss to the students of his department as well as the university," said the speakers on Sunday at the meeting, organised by Chittagong University Teachers' Association (Cuta).
Cuta President Prof Dr Mohammad Kamal Hossain chaired the meeting. Former Pro-vice chancellor Prof Dr Abu Yousuf, Cuta General Secretary Dr Kamrul Huda, Prof KM Golam Mohiuddin, Prof Mansur Uddin Ahmed, Dr Toiyab Chowdhury, Prof Ali Asgar Chowdhury and Prof Dr Abul Hossain spoke among others.
Seminar on Halda fish breeding zone
A seminar titled 'Analysis of Regaining the Natural Fish Breeding Zone of Halda River' was held on Saturday.
Speakers at the seminar urged the authorities concerned to postpone the controversial programmes of the project on regaining the natural fish breeding zone at the Halda River and re-evaluate those.
They hoped the expenses of the project would come down if their demand is met and Bangladesh would feel pride for the lone fish breeding zone.
Chittagong Citizen Initiative and Halda River Protection Committee jointly organised the seminar with the daily Prothom Alo Associate Editor Biswajit Chowdhury in the chair.
Media personality Shaikh Shiraj was the moderator at the seminar held at the seminar room of Institute of Engineers Bangladesh (IEB), Chittagong in cooperation with ActionAid Bangladesh.
Bangladesh Environment Lawyers' Association (BELA) Director Syeda Rizwana Hasan was the chief discussant while Assistant Professor of Zoology Department of Chittagong University (CU) Md Manjurul Kibria and local daily Dainik Purbokone Staff Reporter Mohammad Ali presented two key-note papers.
Chittagong Union of Journalists (CUJ) President Mostak Ahmad, CCC ward councillor Rehena Kabir Ranu, former president of IEB Chittagong Engineer Ali Ashraf, former president of Chittagong University Teachers' Association (Cuta) Dr ANM Munir Ahmad Chowdhury and Dr Abu Hena Mostafa Kamal participated in the discussion.