Israel takes battle to urban Gaza
Calls in reservists; 19 more Palestinians killed as Egyptian truce talks plod on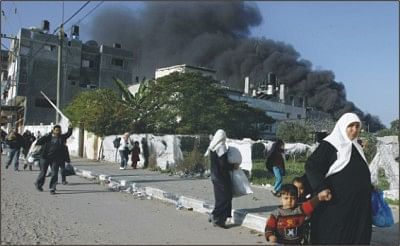 Israeli warplanes pounded the homes of Hamas leaders and ground troops edged closer to the Gaza Strip's densely-populated urban centre yesterday, as Israel stepped up the pressure ahead of deciding whether to escalate its devastating two-week offensive.
Israeli infantry units battled with Hamas fighters across Gaza yesterday as Prime Minister Ehud Olmert said he hoped Egyptian peace efforts could bring about a swift end to the war.
At least 19 people were reported killed in Monday's clashes, medics said, pushing the overall toll past the 900 mark in a 17-day-old conflict, which has also wounded nearly 4,000 people.
From downtown Gaza City black smoke could be seen rising over the eastern suburbs, where the two sides skirmished throughout the night. At least six Palestinians were killed in the new airstrikes or died from their wounds on Monday, Gaza health officials said. One of the dead was a militant killed in a northern Gaza battle.
Israeli ground forces made their deepest foray yet Sunday into Gaza's most populated area, with tanks rolling into residential neighbourhoods and infantry fighting urban warfare in streets and buildings with Hamas militants who kept up their rocketing of southern Israel.
An Israeli army spokeswoman said residential neighbourhoods in Gaza are riddled with homemade bombs and booby traps, including mannequins placed at apartment entrances to simulate militants and rigged to explode if soldiers approach.
The army "is advancing more into urban areas," said the spokeswoman, Maj. Avital Leibovich. "Since the majority of the Hamas militants are pretty much in hiding in those places, mainly urban places, then we operate in those areas."
Despite the tightening Israeli cordon, however, militants still managed to fire off a rocket Monday morning, which fell near the southern town of Kiryat Gat but caused no casualties, police said.
Thousands of Israeli reservists also joined battle against Hamas, the Islamist movement which has continued to fire missiles into Israel throughout Operation Cast Lead, launched with the avowed intent of ending the rocket attacks.
In Egypt, which has been spearheading Western-backed efforts to end the war that has sparked widespread protests across the world, talks were due to resume between Egyptian officials and Hamas.
But Israel's pointman for Gaza truce talks, Amos Gilad, delayed a planned visit in what Israeli radio speculated was meant as a pressure tactic on Hamas.
Speaking on a trip to Holon, a suburb of Tel Aviv, Olmert said Israel was achieving its objectives in the conflict.
"We hope that the violence will end swiftly but in order for that to come about, two things must happen: rocket fire must stop and the terror organisations must stop rearming," he said.
"These things are not impossible and we are closer to them today than a few days ago.
"I hope that the efforts of recent days by the Egyptians will allow us to end the war," added Olmert who is to stand down after elections on February 10.
The negotiations in Cairo are cantering on a three-point plan that Egyptian President Hosni Mubarak unveiled last week.
The plan calls for an immediate ceasefire to allow humanitarian aid into Gaza, talks on opening Gaza's border crossings and taking steps to prevent arms smuggling, and relaunching Palestinian reconciliation efforts.
On Sunday, Cairo upped the pressure on Israel by summoning its ambassador to demand that the Jewish state comply with last week's UN Security Council resolution and open humanitarian corridors to relieve the besieged territory.
Both Israel and Hamas have waved off the resolution that called for an immediate end to the fighting.
Officials in Cairo said that the talks with Hamas had been positive, saying the Islamists agreed "on the importance of ... stopping the shedding of Palestinian blood as soon as possible."
Osama Hamdan, Hamas's representative in Lebanon, told Al-Jazeera television afterwards that "there was some progress on some points" of the Egyptian proposal.
"We reject parts of this proposal ... but that does not mean rejection of all the proposal."
Although it has so far ignored the UN ceasefire resolution, Israel is aware it cannot afford to remain diplomatically isolated for long, especially with Barack Obama due to enter the White House next week.
Israeli security officials believe they have struck a tough blow against Hamas, killing hundreds of the Islamic militant group's fighters, including top commanders. The director of the Shin Bet security agency told the Cabinet on Sunday that Hamas leaders in Gaza are ready to surrender.
The army also says Hamas has been avoiding pitched battles against the advancing Israelis, resorting instead to guerrilla tactics as its fighters melt into crowded residential areas.
Israeli officials on Sunday suggested that what is now Israel's deadliest onslaught against Gaza could be approaching an end.
"The decision of the (UN) Security Council doesn't give us much leeway, thus it would seem that we are close to ending the ground operation and ending the operation altogether" said deputy defence Minister Matan Vilnai.
Palestinian prime minister Salam Fayad, whose remit is limited to the West Bank, said the Egyptian initiative offered the best hope of peace, putting pressure on both Israel and Hamas to respond positively.
"Not accepting the Egyptian initiative should not be an option. He who refuses, voices reservations or moves slowly on this initiative bears the responsibility of explaining themselves, especially to the people of Gaza," Fayad told a press conference in Ramallah on Monday.
"We need (a ceasefire) in order to bring about an end to the misery and catastrophic human conditions in the Gaza Strip."
Aid deliveries have been massively disrupted by the conflict, with agencies warning that residents are running out of food and even having to burn their furniture to stay warm in the bitterly-cold nights.
Since the start of the operation on December 27, at least 905 people have been killed, including at least 277 children, and another 3,950 wounded, according to Gaza medics.
Ten Israeli soldiers and three civilians have been killed in combat or in rocket attacks since the operation began. Palestinian militants have fired nearly 700 rockets, some of them penetrating deeper than ever inside Israel.
The conflict has sparked worldwide pro-Palestinian demonstrations, and US president elect Obama said he is assembling a team of diplomats to start addressing the Middle East conflict once he is sworn in on January 20.
Earlier Human Rights Watch said Sunday that Israel's military has fired artillery shells with the incendiary agent white phosphorus into Gaza and a doctor there said the chemical was suspected in the case of 10 burn victims who had skin peeling off their faces and bodies.
Researchers in Israel from the rights group witnessed hours of artillery bombardments that sent trails of burning smoke indicating white phosphorus over the Jebaliya refugee camp in northern Gaza. But they could not confirm injuries on the ground because they have been barred from entering the territory.
The chief doctor at Nasser Hospital in southern Gaza said he treated several victims there with serious burns that might have been caused by phosphorus. He said, however, that he did not have the resources or expertise to say with certainty what caused the injuries.