<i>Stolen cars sold between Tk 1-2 lakh each in city </i>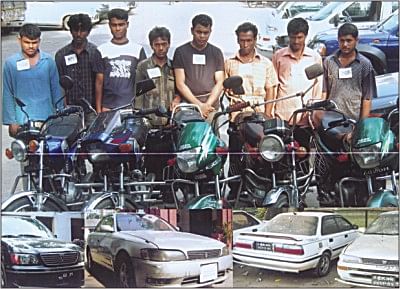 Stolen cars are sold between Tk 1 and 2 lakh each while a stolen motorbike costs Tk 25,000 to 35,000 on the black market in and around the capital.
The car thieves with the help of a section of Bangladesh Road Transport Authority (BRTA) officials even provide the buyer with fake papers and duplicate number plates.
Dhaka Metropolitan Police (DMP) sources said over 1,000 motor vehicles including car, motorbike and CNG-run auto-rickshaws were stolen in the last one year.
During the period, the DMP recovered over 250 stolen vehicles while over 300 people were arrested in connection with the thefts across the country.
DMP Commissioner Naim Ahmed told The Daily Star that the vehicle thieves get released from prison easily through the loopholes of the existing legal system and resume their activities soon after getting freed.
"New laws need to be enacted so that they cannot get released from jail easily," he said adding that the DMP has a 'Vehicle Theft Prevention Team' to curb vehicle theft in the capital.
DMP officials said about 400 car thieves from over 30 gangs are active in and around the capital.
They apply new methods including the use of sedatives to steal vehicles and sell those on the black market.
Talking to The Daily Star, several vehicle thieves, who were arrested by the police at different places, disclosed the methods they use.
The 'Vehicle Theft Prevention Team' led by Additional Deputy Commissioner Mohammad Masudur Rahman has unearthed the existence of a new gang that uses a unique method to steal vehicles.
The team arrested a female member of the gang, Faria Mejbah, 20, also a student of a private university, who admitted that she develops relationship with any youth having a motorbike. She asks him to take her to a specific place where her accomplices wait.
When the youth parks the motorbike there, she takes him some distance away from the spot. Her accomplices then get away with the motorbike.
Vehicle thief Suman Hawlader, who was arrested on October 18 in the capital's Mohammadpur, said, "We knock down a biker hitting with our private car from behind. Then we point firearms at the rider and force him to go away leaving the motorbike."
He said they also stole vehicles parked at various places in the city and sold those changing their number plates and colour.
Suman, who hails from Shariatpur, said his gang has six members including driver, mechanics and duplicate key makers.
They hide the stolen vehicles at different places in Madaripur, Shariatpur, Narayanganj, Gazipur and Munshiganj, he said adding that each gang member gets Tk 4,000-5,000 for stealing a motorbike and Tk 5,000-10,000 for a car.
Suman, who has been involved in car theft for the last 12 years, said his gang steals at least 10 vehicles a month.
Another car thief Joynal, arrested recently by the DB officials, said Ramna police arrested him two years ago on charge of stealing vehicles but he resumed his activities soon after getting released from the prison.
Both Suman and Joynal said they often provide buyers with fake papers with the help of a section of BRTA officials.