<i>Social business to promote social welfare</i>
An interview with Dr Yunus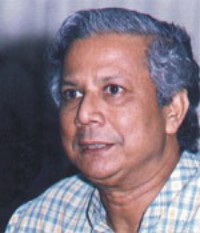 The concept of social business got international focus when Grameen Bank launched a joint venture with Danone, a French multinational company, so that the undernourished children of the country could have access to nutritious fortified yogurt.
Nobel laureate Professor Dr. Muhammad Yunus, in an interview taken by me last week, said: "We sell the yogurt to the poor children at an affordable price, charging just enough to make the company self-sustaining. Beyond the return of the original investment capital, neither Grameen nor Danone will make any money from this venture as per the agreement."
One eye care hospital on social business principle has also been set up, and Grameen Bank has also created a joint venture with Veolia of France to deliver safe water in rural areas. Under the agreement, a small water treatment plant is being built to bring clean water to 50,000 villagers in an area where the existing water supply is highly arsenic contaminated.
"We will sell the water at a very affordable price to the villagers to make the company sustainable, but no financial gain will come to Grameen or Veolia," he said. Regarding the success of the social business concept, he sounded optimistic as more companies were showing interest in partnering Grameen Bank.
Dr. Yunus's answer to critics is that there is no dearth of philanthropists and donor countries giving grants. People give away billions of dollars every year, and if such amounts could be used for social businesses to help people the money could be recycled and its social impact would be much more powerful, he said. In the same way, he said money allocated by companies to corporate social responsibility projects could easily go into social businesses. Each company, he said, would create its own range of social businesses. "We can also create social business funds to pool funds from many sources and invest them in social businesses."
Bilateral and multilateral donors interested in supporting economic development, he said, could easily create social businesses of this type. When a donor wants to give a loan or a grant to build a bridge in the recipient country, it could, instead, create a "bridge company" owned by the local poor.
A committed management, he felt, could be given the responsibility of running the company. Parts of the profit so earned by the company, would go to the local poor as dividends and a part would go towards building more bridges. Many infrastructure projects, like roads and highways, airports, seaports, and utility companies could be built in this manner. He said that once the concept was included in economic theory, thousands of people would come forward to invest in social businesses because of the social dreams they have in their hearts.
To connect with social businesses, there is need to create a social stock market where only the shares of social businesses would be traded, he said, adding that an investor would come to this stock exchange to find a social business, just as someone who wants to make money goes to the existing stock market.
Referring to globalisation, he said: "What we do in one part of the world has a direct impact on another. We are now connected and interdependent in an unprecedented way. The shock waves from the collapse of the financial system in the USA are being transmitted globally."
We have to design a new global economic architecture to make sure that one person's enjoyment of life does not take away another person's right to survival, and that one generation's enjoyment of life does not put another generation in peril, he said.
Extending support to globalisation, Dr Yunus said that it could bring more benefits to the poor than any other alternative, but it had to be the right kind. "Powerful multi-national social businesses can be created to capture a share of the benefits of globalisation for poor people and for poor countries. Social businesses will either bring ownership to poor people, or keep the profit within poor countries, since taking dividends will not be their objective. Direct foreign investment by foreign social businesses will be exciting news for recipient countries. Building strong economies in poor countries and protecting them from plundering companies will be a major area of interest for social businesses."
Describing social business as an answer to global economic problems, he said that social businesses could be introduced in the bail-out packages for the bottom three billion people by creating a global social business fund to provide loans and equity for expanding micro-credit programmes. Such funds, he said, could be used for supporting other poverty reduction programmes, providing technology infrastructure for the poor, improving agriculture in the developing world, providing health care and health insurance, protecting the environment, providing renewable energy and making globalisation work for the poor.
He thinks that extreme greed is responsible for the global economic collapse, and totally irresponsible capitalism can be blamed for today's situation. The wealthy people would loose millions but they would be still left with some millions. Thus, the collapse of the economy will not affect their life style.
The bail-out plan which is being discussed is aimed at rehabilitation of the rich. The year 2008 witnessed several crises, which include food crisis, energy crisis and environmental crisis -- are all interlinked. When we overcome it, none will revisit the crisis, he said.
The real question is "right" globalisation and "wrong" globalisation. The decision makers must concentrate on how to design the system. If globalisation is to be retained it should be a win-win for the rich and the poor, he said. Poor countries should not be colonised. Before we correct the financial system, we have to correct the economic system. The way capitalism is interpreted makes everybody greedy, he said, adding that in the process human beings are turned into money making machines.
He said: "We can create business to address poverty, poor health of women, ensure safe water and tackle environmental issues by promoting social businesses."
Danone has been trying to solve the problem of malnutrition of children as the company was floated not for charity. He said the difference between charity money and investment in social business was that the money invested in social business was recycled, but charity money was not.
Nurul Huda is a senior journalist.