The week that was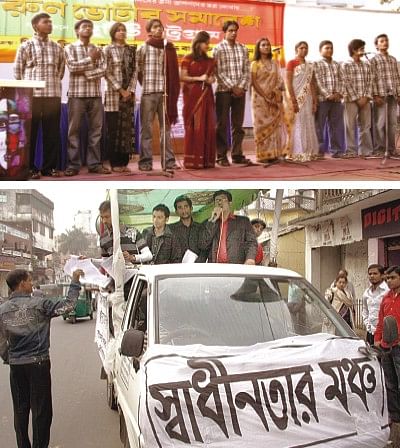 Chittagong Academy AGM held
Social Scientist Prof Dr Anupam Sen said Chittagong Academy has been playing a vital role in upholding the culture, history and literature of Chittagong since its inception.
He said the academy has already published a number of research books, including life and works of Shyamsundar Boishnab and Shefali Ghosh and it would continue the initiative in future.
Dr Anupam, chairman of the Academy, was addressing the 8th annual general meeting ( AGM ) of the academy on its premises on Saturday.
Member Muhammad Nurul Islam, Satyabrata Barua , Hossain Anwar , Dr SK Dev Sajal, Bipul Pal and Saifuddin Afser put up proposals while directors Principal Anwara Alam, Prof Rita Dutta , Dr Mohammad Rezaul Karim , Bipul Barua and Nesar Ahmed were present.
Call to vote out war criminals
Speakers at a press conference on Thursday called upon all to vote out the war criminals and their cohorts in the upcoming election in four constituencies under Chittagong.
They made the call at a press conference organised by the War Criminals and Anti-liberation Forces Resistance Committee, Chittagong chapter at Chittagong Press Club (CPC).
Committee's Chief Coordinator Prof Dr Gazi Saleh Uddin said the people can't deviate themselves from the spirit and dream of the liberation war.
He said Bangladesh was born as a secular-democratic country at the cost of supreme sacrifice of three million freedom-loving people and around two lakh women.
He said the war criminals are contesting from Chittagong-2 (Fatikchhari), Chittagong-6 (Rangunia) and Chittagong-5 (Raozan) while a collaborator is vying for Chittagong-14 (Satkania-Lohagara) seat.
Former Pro-Vice Chancellor of Chittagong University Prof Dr Abu Yusuf, Peshajibi Samannaya Parishad President Prof Dr AQM Sirajul Islam, Bangladesh Mahila Parishad Chittagong President Nurjahan Khan and Convenor of Muktijoddha Smriti Pathagar Chittagong Kamrul Hasan Badal also spoke.
18 get Bank Asia scholarships
Bank Asia Limited awarded higher education scholarships to the talented students and held a customers' conference at Lohagara upazila in the district on Saturday.
On this occasion, Lohagara branch of the bank organised a programme where the bank Director and Mostafa Group Vice Chairman Mohammad Shafiq Uddin was present as the chief guest.
Deputy Managing Director SM Khorshed Alam and Senior Executive Vice President Erteza Reza Chowdhury were the special guests at the function with the bank President and Managing Director Syed Anisul Haque in the chair.
A total of 18 students received higher education scholarship from the Lohagara branch of the bank. The recipients of the scholarships are permanent residents of the area and students of renowned medical colleges, engineering and public universities.
Chittagong Regional Chief and Senior Executive Vice President Mohammad Rosangir , executive officers of corporate offices, and managers and assistant managers of all branches in Chittagong attended the programme.
Tea Traders' Assoc executives
Shantanu Biswas and MA Taher were elected president and vice president of Tea Traders' Association of Bangladesh for 2008-2010 on Thursday.
Ispahani Group of Industries Tea Department General Manager Shantanu Biswas and Sharif Tea House Proprietor MA Taher were elected unopposed.
Other office-bearers are Syed Hussain Pishnamaz, SM Salahuddin, Murtaza Ali, Shah Moinuddin Hasan and Sarwar M Yusuf from general buyer group, SS Iftekhar Ahmed, Bashirul Alam Chowdhury and M Naufel Karim Khan from general seller group, M Saiful Islam from broker group, Syed Alim Mansur from warehouse group and Anwar Pasha, Altafuddin Ahmed, Mohammad Amirul Islam and Nurul Karim from associate members group.
PDB realises arrears of Tk 3.06cr
The sales and distribution department of Power Development Board's (PDB) Bakalia Subdivision realised outstanding arrears of Tk 3.06 crore in November from its 35 thousand consumers, says a press release.
"This is the highest collection in Bakalia, barring government and autonomous offices, since its inception as a separate subdivision in 2001," Mrinal Kanti Sen, executive engineer of Bakalia, said on Saturday.
He said Bakalia is one of the most densely-populated localities in the port city and the system loss here in the yester years was much higher than other areas.
He said power pilferage has reduced to a great extent following the joint efforts by PDB authorities and task force as well as mobile courts.