Hasina sees shine for private sector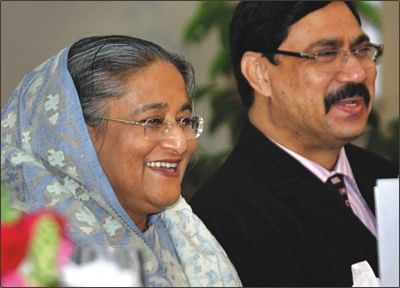 Awami League (AL) President Sheikh Hasina at a business meeting yesterday promised more opportunities for the private sector if her party is voted to power.
At the meeting organised by American Chamber of Commerce in Bangladesh (AmCham), the former prime minister stressed the need for urgent installation of power plants, where, she said more private companies should be involved.
"I believe a business-friendly environment and investment are preconditions for development," she said.
Hasina said: "Three-year-long crash programmes will be undertaken to complete urgently 100-150 megawatt (MW) power plant projects, which are being implemented or have already been accepted."
"We will also resume programme to help the private sector set up small power plants having 10, 20 and 30 MW generation capacities," she said.
Hasina said electricity generation would be increased by repair, maintenance and rehabilitation of the old plants. The AL will take steps to resume the Rooppur Power Project in Pabna, she said.
At the AmCham luncheon meeting the AL chief reiterated her polls pledges, saying electricity generation will be raised to 5,000MW by 2011, to 7,000MW by 2013, and to 20,000MW by 2021.
She stressed exploration of new gas and oil fields and said a coal policy will be made if her party comes to power.
When asked how she would bring down the prices of basic food items, Hasina said: "We have experience. We were able to do it when we were in power. We want Bangladesh to be self-sufficient in food. That means the supply has to be increased."
She also spelled out a plethora of pledges for the development of the capital market, Board of Investment, Export Promotion Bureau, and modernisation of Foreign Exchange Regulatory Act, and the office of the Registrar of Joint Stock Companies and Firms.
Hasina said she would work for protecting the intellectual property rights for the development of IT, medicine and other industries.
She also talked of the risks stemming from the global financial meltdown for the development of the readymade garment and textile industries.
"Priority will be given to shipbuilding, food processing, medicine, toys, jewellery and furniture industries. Special steps will be taken for finding alternative uses of jute and making jute industry profitable. Development of tourism, export of manpower and investment of remittance will be ensured," Hasina said.
For the development of Bangladesh's tourism industry, she suggested better cooperation with the neighbouring countries.
Setting a vision for a digital Bangladesh within 2021, Hasina said she would try to include IT in Bangladesh Civil Service (BCS) examination, and assist young entrepreneurs for the development of software industry.
She said she would construct Padma Bridge, Karnaphuli Bridge and Dhaka-Chittagong Four-Lane Expressway, and expand the railways.
Hasina also promised development of sea ports, land ports, making the state-owned airline profitable, policy help for expansion of private airlines, and setting up new airports of international standard.
She said she would seek a good relationship with the neighbouring countries and expand relationship with the US, EU, Japan, Canada and other developed countries to boost economy.
The AL leader estimated it is possible to lift 2 crore of 6.5 crore people out of poverty by 2013, and 4.3 crore by 2021. It will need a double-digit growth to get rid of poverty, she said.
US Ambassador James F Moriarty, among others, was present at the meeting presided over by AmCham President Syed Ershad Ahmed.
At a separate meeting earlier in the day with the business leaders Hasina asked the businessmen whether they were well and there was a huge economic development in the last two years when there was no hartal or politics of confrontation, businesspeople came up negative.
"You could not be well in the last two years, as an environment of apprehension had been created and for this none could do business properly," she said.
She asked the business leaders to stop giving extortion and bribe for winning business. "You stop giving, and then you will see none is asking for bribe or extortion," she added.
Hasina said: "We want that the private sector entrepreneurs work as the key machine of the economic development."
About hartal she said, "Even after the then opposition [BNP] enforced 308 days of hartal during our regime, we brought development."
Saying that they want to make the country developed by 2021, the AL chief sought cooperation from the business community to implement the vision.
"If we can make Bangladesh prosperous with infrastructure development, it will bridge the gap between the west and east," Hasina said.
She urged private sector to come forward for infrastructure development.
She also instructed businessmen to find out new international markets, produce new items to meet their demands and stop depending on garment-related products only.
"We can export food and agricultural products and fish through setting up processing industries for those," she said.
Hasina instructed businessmen to generate power from wind, water and sunshine.
She said they would set up gas-based industries after exploring the country's natural gas internally, and encourage foreign investment in exploring gas.
FBCCI President Annisul Huq, former FBCCI president Yusuf Abdullah Haroon and Women's Chamber of Commerce President Selima Ahmed also spoke. AL leaders Syed Ashraful Islam and Salman F Rahman organised the programme.