Rockets, gunfire on Gaza border as truce ends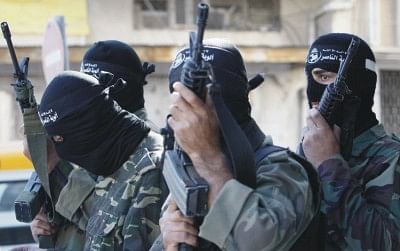 Sporadic violence is flaring along the Gaza-Israel border as a shaky truce expires.
The Israeli military says Gaza militants fired two rockets into Israel on Friday morning, following heavy rocket fire in recent days. The military also says troops guarding Israeli farmers in fields along the border came under sniper fire from inside Gaza.
There were no injuries reported.
A six-month truce between Israel and Gaza's Hamas rulers is set to expire Friday. The ceasefire has been marred by ongoing violence since early November.
Hamas officials said Thursday that they would not renew the arrangement. Israel says the truce has no expiration date and that it will not take military action if Gaza's armed groups hold their fire.
Tension surged in and around Gaza on Friday as the Islamist rulers of the besieged Palestinian enclave declared an end to the troubled truce with Israel and warned they would respond to any attack.
Shortly after the armed wing of Hamas formally announced the shaky six-month truce was over, the smaller Islamic Jihad group said it fired three rockets at Israel, which reported no damage or casualties.
Security sources also reported that an Israeli driving a tractor in a field just outside Gaza was targeted by Palestinian gunmen but was not hit.
At dawn, Hamas's Ezzedine al-Qassam Brigades said: "The ceasefire is over and there won't be a renewal because the Zionist enemy has not respected its conditions."
Both Hamas and Israel have said they would respond if attacked, but neither has said it would go on the offensive at this stage.
"We issue a warning to the Zionist enemy: all attacks against the Gaza Strip or any new crime will trigger a large-scale confrontation and we will retaliate very fiercely," said a statement on the website of the Ezzedine al-Qassam Brigades.
Israeli media highlighted the increased state of alert among security forces and communities around the Gaza Strip, but also uncertainty about the risk of an escalation of violence.
"Hamas continues to maintain ambiguity," the mass-selling Yediot Aharonot daily said. "If causing the situation to deteriorate will serve its immediate interests it will open fire even without declarations."
Several newspapers said the Israeli defence establishment was not eager for battle at this stage.
"There are myriad arguments against a war in Gaza, but the strongest is the one defence officials can't utter aloud... It would be hard to go into Gaza at the height of an election campaign," the liberal Haaretz daily said.
Israel scheduled legislative elections on February 10 after scandal-plagued Prime Minister Ehud Olmert presented his resignation in September.
Israeli Defence Minister Ehud Barak has stressed that he sees no urgency in launching a large-scale military intervention in Gaza.
The truce had been uneasy ever since it went into effect on June 19, and violence has increased since early November, with 18 Palestinians killed and Israel reporting more than 250 rocket and mortar attacks.
On Wednesday two people were wounded when a rocket exploded near a large supermarket in Sderot, an Israeli city just a few kilometres (miles) from Gaza.
Israeli forces launched several air strikes and killed one Palestinian while Gaza militants fired a barrage of rockets on Wednesday and again on Thursday.
Israel and Hamas have accused each other of violating the truce that was negotiated through Egyptian intermediaries because the Jewish state regards the Islamists as a terrorist organisation.
The Israeli government blames Hamas for not stopping attacks often carried out by smaller Palestinian factions, while the Islamists say that not only Israel's raids but also its continued blockade of the impoverished territory were in violation of the truce agreement.
Israel responded to the surge of violence in early November by tightening sanctions and closing crossing points with Gaza, halting deliveries of humanitarian aid and other supplies.
The UN Relief and Works Agency said shortages caused by the closures and the rocket fire forced it to suspend distribution of food assistance to about half of Gaza's 1.5-million-strong population on Thursday.
Palestinian president Mahmud Abbas was to discuss the situation in Gaza with US President George W. Bush in Washington on Friday.
Abbas has called for the truce to continue, but his authority has been limited to the occupied West Bank since Hamas ousted his forces and seized control of Gaza in June 2007.
The situation in Gaza and Palestinian factional divisions have further hobbled slow-moving Israeli-Palestinian peace talks revived under US auspices in November 2007 after a seven-year hiatus.