Grand finale of Close Up 1 2008
Liza wins the much-coveted crown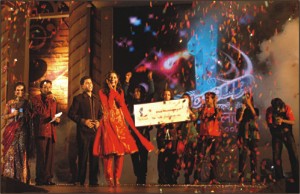 On December 17 the grand finale of "Close Up 1: Tomakei Khujchhey Bangladesh 2008" was held. Sania Sultana Liza from Mymensingh was crowned the new Close Up 1 champion at a dazzling award giving ceremony at Bangladesh-China Friendship Convention Centre.
Apurbo Sarkar Apu from Rajshahi was announced the first runner-up and Shaju Ahmed Sarkar became the second runner-up.
The finale was a bit dramatic -- the winner was selected based on a point system that included both marks given by the judges and public votes (through SMS). Liza got a total of 13,79,951 votes while Apu received 9,88,961 votes. When it came to scores from judges, Liza got 38 out of 50 while judges gave Apu 47 out of 50.
The event started at 8 pm, beginning with a rendition of a patriotic song "Maa eto keno asru du'chokhey" by Close Up 1 2008 finalists. The song was written and composed by Ahmed Imtiaz Bulbul.
A performance by Close Up 1 2005 finalists -- Nolok, Beauty, Rajib, Sonia and others -- followed. Next was a performance by top contestants of 2008, who didn't make it to the finals but made an impression with their talents on the judges and the TV audience nationwide. Songs performed included "Shokhi amarey bolo na," "Amar bondhu bina," "Amar ghoreo jala bahireo jala," "Karo apon hoitey parlina ontor" and other more.
This year the contest began in June and around 86,000 contestants were selected in the primary rounds from all over the country. From them 541 got the opportunity to take part in the main contest. At the third selection 115 were selected. From the 115, 42 were singled out. From 42 only the top 16 were chosen.
A highlight of the evening was renditions of Shadhin Bangla Betar Kendra songs. Contestants performed "Shona shona shona," "Teer hara ei dheu-er shagor," "Amar desher matir gondhey," "Amar desh shob manusher," "Dhono dhanney pushpey bhora," "Durgam giri kantar moru" and others.
The Close Up 1 2006 finalists presented a group rendition of the patriotic song "Purbo digontey shurjo uthechhey."
The final performances were staged by the four finalists. Apu performed "Aaj brishtir diney ami tumi," Liza performed "Bhul korey jodi kokhono mon-e porey amay," Atik performed "Tor kopaley jodi keu na dey tip," and Shaju performed "Bhalobeshey torey bondhu."
This year's contest was the third talent hunt organised by Closeup. The first Closeup 1 was held in 2005, as an initiative to provide a platform for young talents. The winner of the contest Liza, received Tk 10 lakh and a car. Apu received a check of Taka 5 lakh and Shaju received a check of Taka 3 lakh. The winners will also get a chance to perform at concerts in the US, Australia and in several countries in Europe.
The top four to top twelve received taka 1 lakh each. The top 12 contestants will also receive an additional taka 50,000 as scholarship for education in music.