Woes of single, working women looking for a lone living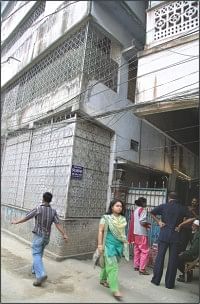 Farzana Shifa, a 28-year-old single woman, was refused accommodation at least 30 times by landlords before she could finally manage one who sublet a room to her.
"When the landlords heard that I am single, want to live alone, the first reaction I got is a raised eyebrow, followed by a gesture of dismissal or rejection in a harsh tone," described Farzana who had to look for a space to rent after she lost her hall seat at the end of her university study.
When Farzana finally found accommodation after scouring Central Road, Katabon, Azimpur, Shonkor, Farmgate and Kathalbagan areas, a different ordeal began.
"Besides the rent being unreasonably high, I was always under scrutiny as if being a single woman is a crime. Parents and relatives were not allowed in my room. 'Don't do this and don't do that' always followed a simple conversation with the landlord," she added.
Farzana is one of the thousands of young single women facing difficulties finding accommodation in the city. Due to socio-economic changes during the last couple of years, internal migration of young single women to the urban areas has increased remarkably.
However, the housing needs of these women are either neglected or overlooked.
Traditionally, single women's independent living is still not permissive in the country. Landlords follow traditional social values and prefer not to rent houses to unmarried women without family.
Most of these women with no close relatives in the city are forced to accept highly insecure, unprotected and uncomfortable housing arrangements, mostly sublet with other families and in government colonies together with other single women. Among them, the ones without monetary solvency is always the less fortunate.
Some women find accommodation in a few private hostels that costs too much.
Workingwomen eagerly try for a seat at the government-run Karmajibi Mohila Hostel that has very limited seats and complicated procedures of admission.
Speaking to Star City most women mentioned insecurity as one of the major issues of concern.
Ayesha Khatun, a resident of Shankar, said, "I feel really insecure as I am being teased regularly by the local boys who learnt from the security guards of my building that me and my friend are living without a man in this house. They often throw stones at my window."
"I would prefer to live with a relative just to feel safe but I have no other option. People around never ask why we live outside our family. They simply assume single women from respectable family do not live alone unless they are doing something immoral," she added.
Many single women have also mentioned high rent and bad living condition as a problem.
"Always the worst flat of the buildings are offered to us. I have no window in my room. Besides, the landlord increases rent whenever she wishes. I have to pay 4,000 taka plus bills for a tiny space," said Farzana who lives near Farmgate.
A large number of single women include students of universities and colleges. The newcomers suffer at the early period as most public educational institutions fail to provide them with accommodation facility in dormitories. A large number of Dhaka university students have to find accommodation outside the campus even during admission test.
Government colonies near Dhaka University such as Palashy, Azimpur and Nilkhet staff quarters have always been major lodging areas for them.
Shimul Rahman, a first-year BBA student at Dhaka University living at Nilkhet said, "I have already finished one year at DU and so far I got no response from the dormitory authorities. They say the dorm is already overcrowded."
Economic, social and cultural changes have also led to a considerable rise in female-headed households who go through the same ordeal while renting houses. They often have to hide the fact if they are divorced or separated. "After failing to rent a house I had to lie. I told my landlord that my husband lives abroad," said a recently divorced mother of two.
Bangladesh Mahila Parishad General Secretary Ayesha Khanom suggests establishment of safe, affordable and quality hostels and housing facilities for single women by the government at subsidised costs. Non-government organisations and big private business houses can also play a part in this regard.
"Besides, it can be a huge business opportunity for the real estate firms who can easily establish housing complex for single women. It can be single-room flat of various ranges. It is being practised in neighbouring countries," she said.
"About 70 percent of the single workingwomen are garment factory workers. They bring a large amount of foreign currency for the country. We have to consider their housing needs which is being grossly ignored," she added.
However, most importantly, a change in mindset among the landlords is necessary. Women are a part of the society and reality takes them to many situations, which should be accepted with respect, she noted.