Birth centenary of Professor Nurul Momen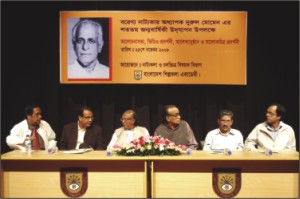 Centenary of the late theatre icon Professor Nurul Momen (1908-1990) was celebrated at the Experimental Theatre Hall, Bangladesh Shilpakala Academy (BSA) on November 25. Department of Theatre and Film, BSA arranged the programme. The programme featured discussion, screening of video clips, photography and book exhibition.
Noted theatre personalities spoke on the life and works of Nurul Momen at the discussion.
Professor Momtazuddin Ahmed was the chief discussant at the programme. He said, "Two people, who brought about significant changes in modern Bangladeshi Theatre are Professor Nurul Momen and Professor Munier Chowdhury."
"Nurul Momen was my teacher and mentor in theatre," he added.
S.M. Mohsin, noted theatre personality and former director, Department of Theatre and Film, BSA recalled studying under Professor Nurul Momen at Department of Law, Dhaka University (DU).
Shafi Kamal, director, Department of Theatre and Film, BSA delivered the welcome address. Professor Afsar Ahmed, Department of Drama and Dramatics, JU and Professor Israfil Shaheen, chairman, Department of Music and Theatre, DU, among others, spoke at the programme.
Bikash Kishor Das, acting director general of BSA, presided over the programme.
A video clip featuring Professor Nurul Momen, which was aired previously on Bangladesh Television, was screened after the discussion. A book and a photography exhibition were also part of the celebration. The exhibitions were held at the corridor of the Experimental Theatre Hall. The exhibition featured books written on Nurul Momen.
Nurul Momen was popular known as 'natyaguru' in the theatre circuit. Throughout his illustrious career, Nurul Momen worked in different fields. He was a playwright, poet, translator, lawyer and teacher.
His single act play "Nemesis" (1944) is considered to be one of the most novel and successful plays in Bangladeshi Theatre. Other notable plays written by Nurul Momen include "Rupantar," "Naya Khandan," Alo Chhaya," and "Ruplekha."
Nurul Momen was born in Buraich, Alfa Danga of Faridpur (the then Jessore). Before joining the Department of Law, DU he was a lawyer at Calcutta High Court.