In Memoriam
102nd birth anniversary of Natyaguru Nurul Momen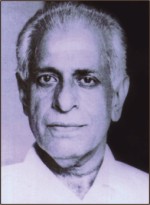 Today marks the 102nd birth anniversary of pioneering theatre personality 'Natyaguru' Nurul Momen. Eminent critics from home and abroad including Malcolm Muggeridge, Mohitlal Mojumdar, Sajani Kanto Das and Ashutosh Bhattacharya have hailed Nurul Momen as the "father of modern Bangla drama." His acclaimed single-character play "Nemesis" is considered to be of world class.
Nurul Momen's contribution in popularising satire in Bangladeshi theatre is incomparable. He was born into an aristocratic family of Alphadanga, in the then Jessore district (Alphadanga is now part of Faridpur) on November 25, 1906. He breathed his last at his Gulshan residence in Dhaka on February 16, 1990.
In the early 1920s, Nurul Momen, as a student of Dhaka University, stepped into the world of theatre and became a trailblazer among Bengali Muslims. That pioneering role reached its apex when in the '30s and early '40s his plays "Rupantor" (Transformation)' and "Nemesis" took the theatre circuit by storm. Nurul Momen also initiated the trend of satire in our theatre. His plays and personal Essays in English, as well as Bangla, remain unmatched. He was also renowned as a broadcaster from the onset of BBC, local radio and television.
From the onset of the '40s he was a teacher at the Department of Law, Dhaka University. Among his students was Bangabandhu Sheikh Mujibur Rahman. Nurul Momen took up the major task of writing and directing plays in this country -- a move that created much uproar in both West Bengal and Bangladesh. It was a big challenge in the conservative Muslim society. In 1971, when Bangladesh was on its way to independence, Nurul Momen formed a drama academy to imbibe that spirit in the cultural field. Nurul Momen was the chairman and Zainul Abedin was the secretary of the academy.
It should be mentioned that Nurul Momen wrote of the first law book in Bengali in Bangladesh. He was a prominent intellectual, acclaimed actor, knowledgeable editor, a recognised orator, accomplished columnist and skilled translator. He received the Bangla Academy award in 1961, Sitara-e-Imtiaz in 1967 (he renounced it in 1971) and Ekushey Padak in 1977. The Tenashinas Award, given by theatre and TV artistes, was conferred on him in 1989. Throughout his career, Nurul Momen travelled widely throughout Europe, Asia, America and others parts of the world.