'Rehabilitation of Sidr-hit people frustrating'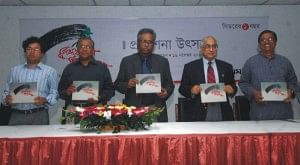 Rehabilitation of Sidr-affected people in last one year is frustrating, said the speakers at the book launching ceremony yesterday.
The book tilted 'Cyclone Sidr: Devastated Coast' was published jointly by the Prothom Alo and Maula Brothers, a publishing house, at the Cirdap auditorium in the afternoon.
The book containing news, photographs and analysis on Sidr devastation was published in observance of one year of Sidr that hit the coastal belt of the country on November 15.
"It is unfortunate that hundreds of thousands of people have not been rehabilitated properly," said Brac University Vice-chancellor Prof Jamilur Reza Chowdhury.
He wondered what has happened to the announcement and pledges regarding immediate rehabilitation of Sidr-hit people and installation of more cyclone shelter in coastal areas.
"I hoped there would be better coordination among different agencies, but no effort was made in this regard with a master plan," he added.
Referring to $115 million donation announced by an unnamed Saudi donor, Prof Jamilur said he was asked to be chief of a committee to spend the money but he does not know what happened to that committee.
"We have been working for the whole year since Sidr hit the coastal area. We are working uninterruptedly for the rehabilitation of Sidr-hit people. Our responsibility does not end only in making news, our responsibility lies in distributing relief among the affected people when it is necessary," said Prothom Alo Editor Matiur Rahman.
"Our policy to deal with a natural calamity should be how affected people can be brought back to normal life rather than distributing relief," said IUCN Country Representative Dr Ainun Nishat.
Prothom Alo Joint Editor Abdul Quaiyum, Deputy Editor Sazzad Sharif and Sayeduzzaman Roushan were present on the occasion.
Prothom Alo thanked people at home and abroad for donating Tk 3,08,42,522 in the fund maintained by the daily in aid of Sidr-victims.
The daily informed that rehabilitation work is still going on with that money.