Jamal's romantic and pensive journey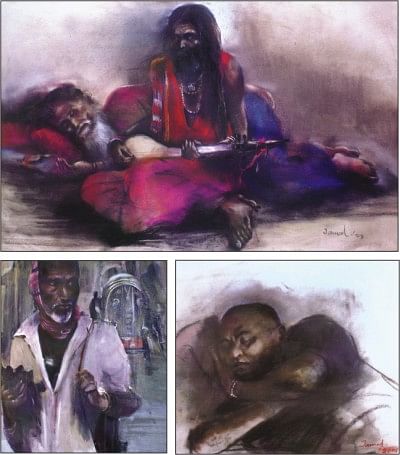 For a long time, Bengal's scenic beauty as well as nubile women in all their curvaceous beauty, bucolic panoramic view, metropolis, bauls, mendicants, working class and more have been supremely depicted by the avant-garde painter Jamal Ahmed. The artist portrays the moving and remarkable sights around us.
Jamal Ahmed is one of the leading painters from the '70s, a time when the nation was caught up in the freedom movement. During the time, the country faced many crises and crossed a number of dilemmas...a time when our art, literature proceeded with a new dream and novel vision. Jamal closely observed the changing socio-political and economical condition of the country.
The artist is distinguished for his portraits of fishermen, gypsy women, flood-affected people, countryside landscapes and more. There is a meditative look in his portraits. He has demonstrated his talent and creativity during his studying days that persuaded him to go to Japan and Poland.
A socially conscious artist, Jamal paints people, capturing the diverse moments of their social bindings. He portrays both rural and urban people -- their sufferings, torments, bliss and ecstasies.
In his ongoing solo exhibition at Gallery Chitrak, Jamal has used charcoal, pastel, pencil, watercolour and acrylic on paper and canvas. Observing his works critically, one gets the feeling that his acrylic follows the typical watercolour tonalities -- soft and seemingly transparent. He tries to express his feelings through simple compositions and colours. His colours are romantic and dreamy, which is why his paintings are admired by art connoisseurs and viewers.
Jamal's works on canvas reveal the celebration of triumph and broad-spaced vision. He gets pleasure by painting what moves his creative soul and enables him to translate an individual language, colour and composition. His themes are always upholding the greatness of life and time. He clearly wants to focus the present. In the process, the viewer also gets to know the artist's individuality and mental state of that moment.
Jamal's work expresses the aesthetic beauty of our Bengali women and their varied moods. By means of his sweeping brush strokes and bold colours, the canvas gets a vivacious and spirited look. His sketches are powerful in their tone of lines and serenity. The charcoal sketches, in particular, are very lively and thought provoking. His intimate study of human beings and nature allows him to get to the core of his theme. The works prove his keen surveillance and adoration of nature, people and the mystic lives of bauls and sages.
Jamal Ahmed's solo exhibition at Gallery Chitrak ends on November 23.