Drogba in hot water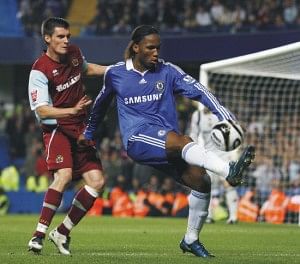 Chelsea striker Didier Drogba is under investigation for an incident during Wednesday night's League Cup loss to Burnley when he threw a coin back at the crowd, police confirmed Thursday.
The incident at Stamford Bridge happened after the Ivory Coast striker had scored the opening goal in the fourth round tie. He also appeared to make an obscene gesture at the away fans.
Drogba was quick to apologise, but a police spokesman said: "I can confirm we are investigating the incident.
"An inquiry is being conducted by the Football Unit at Fulham police station. No-one has been arrested."
A spokesman for the English Football Association added: "We are investigating. That's all I can say until we have had a chance to look into it further."
Drogba, who was shown a yellow card for his actions, said: "This is something I want to make clear.
"I tried to celebrate the goal and I received some things at me.
"The big mistake I did was to throw it back so if someone was hurt, I just want to apologise for it.
"This is not something I should show in a football match and I want to apologise.
"It was an incident in the heat of the moment and I regret it. It was just a mistake and nothing more."
Burnley went on to equalise 20 minutes from time and then pulled off a shock win 5-4 on penalties after extra-time.
Chelsea said that they will await the referee's report before commenting further.
Burnley manager Owen Coyle and Chelsea coach Luiz Felipe Scolari said they did not see the incident.
Scolari said: "I have not spoken with Didier about any problem. The referee gave him a yellow card but I did not see what happened."