Tomar Doa-e Bhalo Achhi Ma
New serial on the plight of Bangladeshi workers abroad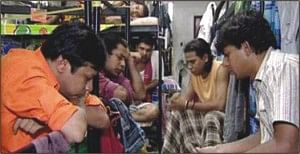 Highlighting the dilemmas of Bangladeshi workers abroad, the first episode of the new drama serial "Tomar Doa-e Bhalo Achhi Ma" will be aired tonight on ATN Bangla at 9:20pm. Written by Quazi Shahidul Islam, the play is scripted and directed by actor Mahfuz Ahmed.
The serial follows the lives of Gourango from Barisal, Sekandar from Pabna, Bulbul from Noakhali, Jewel from Manikganj, Rashid from Kushtia and Joinal from Dhaka. With a common aim to secure better livelihood, all six of them pay good money to go to different countries including Malaysia, Qatar and Singapore. Unfortunately, each of them endure severe hardship abroad, left only with the hope to make it back home to their dear ones.
The cast of the serial includes Ferdausi Majumdar, along with Tania Ahmed, Hasan Masud, Mosharraf Karim, Chanchal Chowdhury, Richi Solaiman, Dr. Inamul Haque, Shams Suman, Intekhab Dinar, Shatabdi Wadud and more. The serial will be aired every Thursday and Friday at the same time.