Jamaat protesters violate EPR, block roads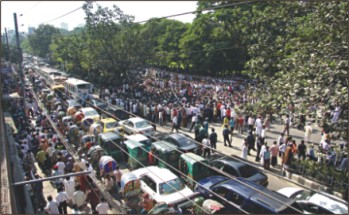 Jamaat-e-Islami brought out processions across the country yesterday in violation of the Emergency Power Rules (EPR) to protest the jailing of three leaders of Jamaat and BNP.
The protests took place after a trial court in Dhaka sent Jamaat Ameer Matiur Rahman Nizami, former finance minister M Saifur Rahman and Jamaat Secretary General Ali Ahsan Mohammad Mojahid to jail after they surrendered before the court in the morning.
Thousands of Jamaat leaders, activists and followers took to the streets of the capital city and blocked a part of Rokeya Sarani stretching from Khamarbari to Bijoy Sarani intersection.
They gathered at the north gate of the high-security parliament complex, chanting slogans demanding the release of their two top party chiefs. They also held a rally.
Commuters at this time were stuck in the severe traffic jam as movement on the roads was almost brought to a standstill because of the road blockade.
Jamaat activists dispersed at around 3:30 pm.
In Chittagong, hundreds of leaders and activists of the Chittagong unit of Jamaat-e-Islami and Islami Chhatra Shibir brought out a procession -- in violation of electoral code of conduct -- demanding release of their party chiefs.
City Jamaat chief Shamsul Islam, an aspirant in the upcoming election, told The Daily Star that the procession was part of their electoral campaign.
The activists gathered at Chawk Bazar after Asr prayers and paraded through the city streets ending at Anderkilla when they went to offer Magrib prayers.
A small squad of police escorted the procession but refrained from stopping them.
Chittagong Metropolitan Police (CMP) officials admitted that the electoral code of conduct had been violated.
Banaj Kumar Majumder, deputy commissioner (north) of CMP, said that the procession was brought out so suddenly they couldn't do anything about it.
A police report is being sent to higher authorities in this connection.
Chittagong University unit Shibir brought out a similar procession on their campus in the afternoon.
In Rangpur, district Jamaat and Shibir leaders brought out a procession, in clear violation of EPR, protesting the arrest of their leaders.
Police walked ahead of the procession but did not stop it, eyewitnesses said.
In Sylhet, city BNP and Jamaat brought out separate processions and held rallies last night.
City BNP held a brief rally at the Central Shahid Minar before bringing out a procession.
They said the government should not do anything to create uncertainty in the country.
Jamaat brought out a procession from the court point area ending at Chouhatta point in the evening to demand the release of their leaders.