Ton-up Imran, Faruque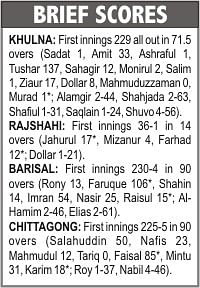 Tushar Imran and Nasiruddin Faruque hit centuries while Nabil Samad continued his wicket-taking exploits in the National Cricket League yesterday.
At the end of the first day of the fifth round matches, Barisal ended with 230-4 powered by Faruque's ton. The stylish left-hander was very happy with two centuries in a row. "I am very happy with the back-to-back century. I want to score consistently in the remaining matches," Faruque told our Bogra correspondent.
Away in Chittagong, Sylhet left-armer Nabil took four wickets as the home side reached 225-5 while in Khulna, Tigers discard Tushar smashed 137 but despite his efforts, his side faltered to be bowled out for 229 against Rajshahi, who were 36 for one at stumps.
Sri Lankan umpires Athula Senanayake and Sagara Gallage made their debuts in this round. Senanayake is standing in the Chittagong-Sylhet encounter while Gallage is the umpire of the Barisal-Dhaka game.
KHULNA V RAJSHAHI
Defending champions Khulna struggled to cope with Rajshahi's mixture of pace and left-arm spin.
Tushar was eighth man out in a 178-ball knock that had thirteen boundaries and three sixes. He found little support with only Amit Mazumder adding 33 and Ziaur Rahman scoring 17 later on.
For Rajshahi, Suharwardi Shuvo took four wickets including the prized scalp of Tushar while Mohammad Shahjada took two wickets.
in reply, Rajshahi opener Jahurul Islam and Farhad Hossain remained not out after another opener Mizanur Rahman fell for 4 to Dollar Mahmud.
BARISAL V DHAKA
Our Correspondent adds: Barisal are on their way to a big score after opener Faruque smashed an 106 at the Shaheed Chandu Stadium.
But early on, Barisal lost Rony Talukdar who gave a catch to Shamsur Rahman at point off Dhaka Al-Hamim with the team's score on 20. The Dhaka paceman removed Shahin Hossain in the 15th over to further reduce Barisal, who won the toss and elected to bat first.
The left-handed Faruque added 82 for the third wicket with captain Imran Ahmed, who struck 54 with the help of eight fours and a six. Imran fell when he tried to loft Elias Sunny only to find Nadif Chowdhury at mid-on with the score on 125.
Nasir Hossain came in and added another 64 for the fourth wicket with Faruque. Soon after Nasir's fall, Faruque reached his hundred off 255 deliveries with the help of ten boundaries.
CHITTAGONG V SYLHET
Nabil removed Nafis Iqbal, Mahmudul Hasan, Tariq Ahmed and Nadimuddin Mintu as Chittagong struggled on Day One.
Faisal Hossain remained unbeaten on 85 with 14 boundaries in his 181-ball stay. He added 101 with Mintu for the fifth wicket and remained at the crease with Rezaul Karim when the umpires called time.
Earlier, Gazi Salahuddin struck 50 off 118 balls with the help of five boundaries and a six.