The 'magicians' of Dholaikhal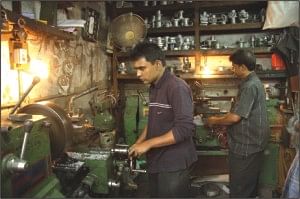 The adept mechanics and motor parts sellers of Dholaikhal are like magicians. It is believed that they can change any run-down vehicle back into its original condition. They can even build cars if provided with a little bit of patronage.
This reputation of Dholaikhal gradually built up during the last 50 years. With all its fame and occasional bad names, Dholaikhal still remains as the main service centre for worn out vehicles and the best place to buy old motor parts.
From nuts and bolts to heavy engines, from chassis to bearings, wheel drums, springs and any small or big parts of motor vehicles are available at Dholaikhal. Remodelling and overhauling services are also available there.
Located near the river Buriganga in Old Dhaka, every nook and cranny of Dholaikhal has a treasure to offer with its tin-shed stores, footpaths and even road islands and railings jam-packed with bits and pieces of motor parts.
Iqbal Karim, owner of NN Motors, said, "Transport sector in Bangladesh is totally dependent on second-hand motor parts sold here. What may look like scraps is actually valuable merchandise collected in different ways."
In the past all the old parts were collected from auctions of run-down or outdated government vehicles. It is still a major source of the Dholaikhal traders' collection. A large quantity is also imported from abroad these days.
Outdated vehicles owned by government agencies, corporations and departments as well as large private organisations are sold in the auction usually once a year. Some of these vehicles are seized by the police and left without any claim.
Afsar said around 500 vehicles were sold in the auction this year held three months ago.
Wholesalers of Dholaikhal import spare parts of mostly Japanese vehicles from the dealers in India, Singapore, UAE, Thailand, China and other countries.
A major source of old motor parts is accident-wrecked vehicles. The parts that are in good shape are reused while the rest of the vehicle is sold as scrap.
This market of second-hand car parts was established in 1960s, when parts of only buses and trucks were available there. At that time there were very few private cars in Dhaka.
With growing number of private cars, the sales of car parts also increased. The workshop owners said their business started booming during late 1980s.
Today the area is considered as a mini motor industrial zone with around 4,000 to 5,000 shops where at least 30,000 to 40,000 people are employed.
In the past there were shops for only engines and engine parts but now the business has expanded. Many shops today are specialised in selling one particular parts. Some stores only collect and sell steering while some may specialise in tyres, lights or bearings.
Mohammad Harun at Dholaikhal City Corporation Spare Parts Market said, "Transport sector in Bangladesh is dependent on reconditioned vehicles. Many parts of these vehicles are no longer manufactured by the main company. This is why trips to Dholaikhal became a routine affair for reconditioned car owners."
"Life of motor vehicles never expires in Bangladesh because re-use of second-hand motor parts has become a practice here," he added.
Dholaikhal is also home to the most skilled motor mechanics providing the best remodelling and overhauling services.
"Give them (mechanics) photos of any new model cars. Mechanics at Dholaikhal will customise it for you. They are expert in customising both interiors and exteriors of vehicles," said Harun, owner of Harun Motors.
Traders claim the mechanics of Dholaikhal are also manufacturing some of the parts that are as good as the original ones. They are even making tempos and tractors with shallow water-pump engines and all this was done by self-taught workers.
Md Afsar Uddin Afsu, president of Dholaikhal Tong Market Traders' Association, said, "The entire zone developed at individual initiatives. No governments came forward to patronise us. These workers never received any formal engineering education. They learned the skills from colleagues and predecessors."
The entire motor parts business has developed mostly on public land managed by the city corporation. Some traders have also occupied footpaths. "There have been promises by many leaders about the construction of a separate market for the motor parts traders. But the promises never came into being," Afsar lamented.
With all its fame and glory Dholaikhal has to bear its share of bad name. The area has the reputation of being the market of the thieves. It has been reported that the stolen private cars and their parts are sold here. Some thieves also steal the car parts and sell them here.
Traders however claim that it is a matter of the past. "Because of a few bad apple the entire industry has to bear the bad name. We are working to get rid of this reputation. Stolen parts are no longer welcomed by the traders," Afsar noted.