Ban sees potential for development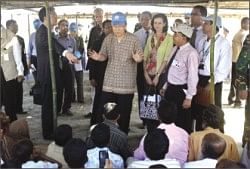 United Nations Secretary General Ban Ki-moon yesterday said Bangladesh could be a prosperous country if the huge resources it had could be used properly.
Speaking at a view-exchange meeting with the beneficiaries of an UNDP-funded project in Sirajganj, the UN chief said Bangladesh had enormous potentials for economic development.
Ban said poverty of Bangladesh would go to museum if people of the country had worked together for development.
NDP, a local NGO implementing an UNDP-funded project at Charpanagari in Kazipur Upazila, organised the event.
Referring to the death of children worldwide due to poor sanitation, lack of necessary food, pure drinking water and health care, the UN chief said poor and disaster-affected people should stay prepared to protest against any move that worsens the climate.
Ban asked the people to make their children educated and groom them as efficient citizen.
Wife Madam Yoo (Ban) Soon-taek and UN's country coordinator Renata Lok Dessallien accompanied the UN chief.
Ban visited different projects financed by the UNDP.
Ban also visited the microcredit programme of Grameen Bank at Chupinagar village in Bogra district, where Grameen Bank established an association for landless women and removed their hardship.
Our Bogra correspondent reports: Ban said the UN would boost help in sanitation sector of Bangaldesh.
The UN chief talked to the members of the Chupinagar's association and enquired them about how microcredit helped them to become solvent.
During the visit, Ban said the UN wanted the development of poor people.
Sadia Afrin, a student of Dinajpur Medical College, who took loan from Grameen Bank to cover her academic expenses, told the UN chief how microcredit had created an opportunity for her to continue her study.
Deepal Chandra Barua, deputy managing director of Grameen Bank, briefed Ban on the bank's programme for beggars.