Traders stop using Akhaura land port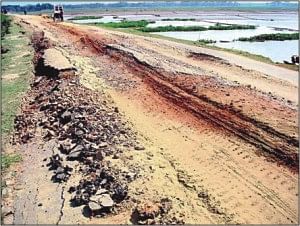 Akhaura Land Port Exporters and Importers Association stopped export- import trough the land port from yesterday.
The decision was taken Friday protesting dilapidated condition of the road to the port and lack of other facilities.
The suspension will continue till the road is repaired, association sources said.
At a meeting yesterday, the association put forward a 16-point demand including the reconstruction of the road, providing LC service and bank facilities at the port.
Its president Md. Safiqul Islam said they can not use the land port despite their intention.
The 16 kilometre road to the land port is virtually unusable and risky. The seven bridges on the road are vulnerable, he said.
Exporters and importers are also facing problems in loading and unloading goods not only at Akhaura land port here but also at Agartal port across the border, he said.