Becks seals Milan deal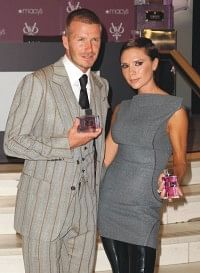 England international David Beckham will join AC Milan on loan in January, the Italian club said on Thursday.
The former England captain will join the team from January 7 when the Serie A season restarts following its winter break.
Milan vice-president Adriano Galliano had revealed earlier in the day that he was due for talks with Beckham's lawyers, who were in Milan, and now a deal has been agreed.
"Beckham has become a reality, it's no longer a dream," announced Galliani triumphantly.
Beckham is due to be unveiled officially on December 21 and eight days later will head out with the team to Dubai for a training camp.
He could then make his Serie A debut against AS Roma in the Italian capital on January 11, however he won't be staying beyond a two- to three-month loan period.
"No-one has ever spoken about a permanent transfer, it's not a practical hypothesis because he has a contract with Galaxy who don't want to let him go, they (Beckham and his wife) like it there and he has a myriad of sponsorship contracts," added Galliani.
"Beckham's not coming here to mess around but to play football and he's fully aware of that."
The seven-time European champions first revealed the possibility of the loan move last week after rumours circulated that Beckham would train with the Italians during America's Major League Soccer off-season.
The former Manchester United and Real Madrid midfielder currently plays for Los Angeles Galaxy, whom he joined 18 months ago, but needs to keep playing over winter to avoid losing match fitness and his place in the England squad.
England's Italian boss Fabio Capello has previously made it clear to Beckham that if he is not playing he won't be part of the England set-up.
Beckham has 107 caps for England and is the third most capped player in the country's history.
This moves means the golden boy of British football will have played for arguably the biggest club in the three biggest leagues in the world: England, Spain and Italy.