Demolition Of Lalon Sculpture
Teachers join protest rally at RU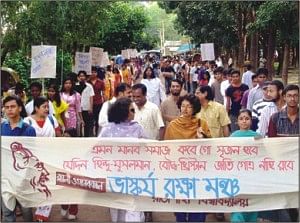 Teachers, cultural activists and general students under banner of Sculpture Protection Forum yesterday formed a human chain in front of the central library on Rajshahi University (RU) campus demanding immediate re-installation of Baul sculptures at the airport roundabout in Dhaka.
The human chain was formed as part of the forum's three-day programme announced earlier.
Later, they brought out a protest procession and held a protest rally in front of the central library.
Speakers urged the university teachers, general students and progressive people to launch a tougher agitation against the anti-liberation forces. They also demanded of government trial of war criminals through speedy trial tribunal. They urged the government to announce the airport roundabout area as 'Lalon Chattar'. Demanding exemplary punishment of bigots, they urged the government to ensure the atmosphere to flourish the Bengali culture and heritage.
Finally, they vowed to continue their agitation until re-installation of the sculptures at its original place.
Among others, Prof SM Abu Bakkar, Prof Moloy Kumar Bhowmik, Susmita Chakrabarti, Faruk Hossain and cultural activists addressed.